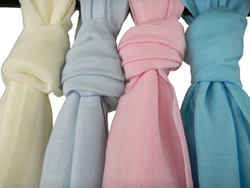 Luxury silk/cashmere blend pashminas will take a Seder dinner outfit up a notch.
Houston, Texas (PRWEB) March 31, 2015
In honor of Passover, The Pashmina Store, one of the largest online sources of pure, grade A cashmere, is offering 10% off purchases over $50. This season's selection from The Pashmina Store is inspired by Pantone's Top 10 colors for spring 2015 and includes understated brights, pale pastels and nature-like neutrals. Shoppers may enter PASS2015 during checkout to take advantage of extra value pricing through April 11th, 2015.
"Our lightweight pashminas are a wonderful way of expressing personal style this spring," said Blair Rhodes, co-owner of The Pashmina Store. "Luxury silk/cashmere blend pashminas will take a Seder dinner outfit up a notch, while keeping bare shoulders covered, and they are even light enough to wear for many occasions throughout the summer."
The Pashmina Store offers the following "Perfect Picks" for Passover this spring:
Baby Blues – Pantone's 2015 spring color selection focuses heavily on blues to blue/greens. The Pashmina Store's Water pashmina stoles in shades of blue atoll, light blue, Moroccan blue, royal blue and peacock blue offer great examples of these colors.
Mellow Yellows – Silk/cashmere wraps in corn silk yellow, pale yellow and bright yellow capture this spring's sunshine and easy energy. These stoles layer easily with florals, dresses, complement denim dresses and separates, and are sure to brighten up any room.
Natural Neutrals - Elegant neutral wraps in solid natural, champagne, silver grey and gold are infinitely versatile and work beautifully with a classic, solid black or white ensemble.
Pastel Punch – Fruity pastel pashminas in orange, rose, pink and hot pink are a fun way to add a pop of sweetness for the season, and work well over ginghams, florals and patchwork prints.
The Pashmina Store's stoles and wraps are offered in more than 50 colors in multiple weights, prints and sizes, suiting every woman for every occasion year round.
About The Pashmina Store
Since 2001, The Pashmina Store has been proud to offer the finest quality pure pashmina and pashmina/silk blend shawls, wraps, scarves and cashmere blankets. Customers enjoy the entire experience with quality products at exceptional values, free standard shipping in the U.S from Texas, and a satisfaction guarantee.