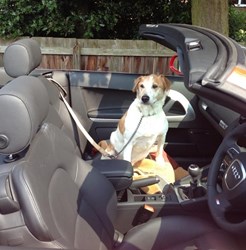 77% of dog owners buy a car which suits the dog
(PRWEB UK) 31 December 2013
Car dealers often forget a key influence in a sale: the family dog.
In the WeLoveAnyCar.com Dog Owners Survey, 77% of car owners with dogs said their choice of car was dependent on the best fit for their dog.
With dog ownership on the rise, if a car doesn't meet the mutt's approval it will stay on the forecourt. Dealers are advised to cater for family dog as well as the kids.
10 Tips To Attract Dog Owner Car sales
1 Hang up a 'Dogs Welcome' sign
2 Supply water for dogs
3 Feature dogs in adverts
4 Make sure all salesmen are 'dog aware'
5 Offer to let the dog sit in the car
6 Learn the dog's name
7 Offer dog snacks
8 Stroke and pet dogs
9 Never show displeasure with a mutt
10 Accept that wipes and mops are worth a sale
A spokesman for WeLoveAnyCar.com said, "The fact is over 20% of car owners will have dogs. Today's car market can be rough and dealers should take the lead and lay out the welcome mat for the mutt."
WeLoveAnyCar.com has over 108,600 car reviews of virtually every make and model sold in the UK.