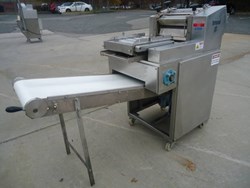 Bohemia, NY (PRWEB) December 26, 2013
Wohl Associates, Inc., a trusted leader in the used food processing and packaging machinery industry, is now selling used pasta manufacturing machines from top manufacturers.
The newest list of inventory from Wohl Associates includes these used pasta manufacturing machines from well respected brands like Toresani and La Parmagiana that can handle just about any type of pasta manufacturing needed for a business.
The La Parmagiana pasta manufacturing machine is a pasta extruder, which is rated up to 80 kilograms per hour, or approximately 175 pounds per hour. The extruder has two stainless steel kneading hoppers, one which is 16 inches by 31 inches and one which is 18 inches by 34 inches. There is a side mounted staircase and platform and the extruder can be supplied with a motorized cutting head.
One of the Toresani models in the Wohl Associates used pasta machine inventory is a pasta sheeter/ cutter, used for cutting the pasta into different shapes, sizes and lengths. It has a 15 inch wide takeaway belt. The machine has a punch button starter and works well when making pastas like fettuccine, linguini, pappardelle and lasagna sheets of various sizes.
Other Toresani machines include a punch gnocci machine, which is rated up to 300 pounds per hour of production when it is at full tilt. The machine has a three inch diameter auger flour recycling system as well as a twin screw feed. There is also a used Toresani four punch automatic tortellini machine in the Wohl Associates inventory, allowing you to make this specific type of pastas in mass quantities very quickly. It has stainless steel cabinetry and has a top mounted hopper with an auger.
Beyond the top of the line used pasta machines, the company also has employees dedicated to helping their customers understand every aspect of these pieces of industrial equipment. This team can also help customers find a specific machine that is not in the Wohl Associates inventory when needed.
About Wohl Associates
Wohl Associates is a leading dealer in the used processing and packaging machinery industry. With a history and solid reputation spanning over 40 years, they have earned the trust of their clients by offering quality pre-owned equipment, expert customer service and invaluable knowledge to their customers. They treat each customer on an individual basis and customers are provided the highest level of service. With a large inventory including cartoners, ribbon blenders, stainless steel tanks, unscrambling tables, colloid mills and vitamin manufacturing equipment.
Wohl Associates has the pre-owned machinery to fit any production line. To view their inventory and learn more, visit them at http://www.wohlassociates.com/.