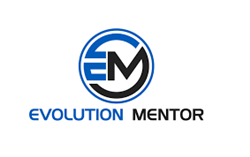 TORONTO (PRWEB) April 16, 2020
Evolution Mentor was founded in 2015 by Pat Mazza, with the sole purpose to help people achieve their personal and business goals faster than they've ever imagined. Pat has worked at the likes of Google, Microsoft, and Hitachi while blowing sales quotas out of the water. He has acted as a consultant to more than 30 public companies and has been featured in virtually every major newspaper and magazine in the world, including The New York Times, The Wall Street Journal, The Los Angeles Times, The London Times, The Herald Tribune, Le Monde, Corriere della Sera, Forbes, Business Week, Paris Match and Rolling Stone. He has addressed more than 1,000,000 people in hundreds of talks and seminars throughout the US, and Canada. As a Keynote speaker and seminar leader, he addresses more than 100,000 people each year.
Evolution Mentor Pat Mazza intends to play a significant role in creating a world in which true wealth—spiritual, material, intellectual—flows to, through and from every person in an ever-expanding, never-ending cycle of abundance. He strongly believes that life should be abundant in all aspects. This includes money, happiness, peace, well-being and the following of a unique life purpose. Pat Mazza is here to help anyone build the life of their dreams. He is here to demonstrate, explain and guide users in the direction of their deepest desires and ambitions.
After learning everything that can be learned, Evolution Mentor Pat Mazza wants to give back and help the masses by sharing his knowledge. Mr. Mazza was personally mentored by Dr. Wayne Dyer and has already helped thousands of people live the life of their dreams. To share everything he knows, next month he will launch his book "The Book On Manifestation - How to live the life of your dreams".
People have their own unique life purpose to fulfill on this Earth. Most people never realize their full potential because they simply don't understand the proper way to think. When working in harmony with Universal Laws, people move beyond perceived limitations and can literally think their way into any result they desire, and live the life they really want.
At Evolution Mentor, users can learn how to achieve their goals and dreams. Goal setting is the first step in putting an idea into action, the thought into its physical equivalent. Everything once started with an idea. Everything starts with setting goals. In order to get where they want to be, users should know that goal setting requires a clean vision, practical steps to get there, and the persistence to overcome any challenge. But that's not all. True success and fulfillment are found in the journey, not the end of the result.
Guests of Evolution Mentor will find out how the achievement of their goals can be radically improved if they have an accountability system in place. Their success depends on this system. Users are advised to get motivated, try out, and learn from their mistakes. That's where the most growth will come from.
Most individuals live their lives in reaction, rather than creating a masterpiece. They only experience tiny amounts of purpose, desire, and passion. Evolution Mentor is providing a system that helps people to shift their paradigms and helps them abolish their limiting beliefs and fears. Users will learn how to master their states and develop their core confidence, vitality, and passion to live life on their terms.
MEDIA CONTACT
Twitter: https://twitter.com/evolutionmentor
Instagram: https://www.instagram.com/evolutionmentor/
LinkedIn: https://www.linkedin.com/in/patmazza/
Email: hello@evolutionmentor.com