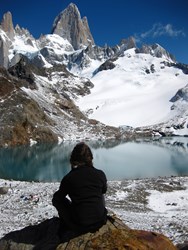 You simply don't see prices this low on small group tours to this region in Patagonia.
Missoula, MT (PRWEB) August 28, 2013
A leader in Patagonia tours, Adventure Life has announced 50% off a Patagonia Glacier Explorer trip. The Latin America small group tours specialists are unveiling steep discounts each week for six weeks to celebrate the launch of its new mobile-friendly website, http://www.adventure-life.com.
"This is an unbeatable rate," said Adventure Life General Manager, Jonathan Brunger. "You simply don't see prices this low on small group tours to this region in Patagonia."
This discount will be 50% off the March 9, 2014 Patagonia Glacier Explorer trip. Discounted price is only $787 ppd. The deadline to book is September 6, 2013.
To find the Patagonia hiking trip discount, travelers can Google Patagonia tours or subscribe to the Adventure Life newsletter to receive announcements by e-mail.
"We had a great response to our Galapagos and Antarctica tours promotions the previous two weeks," continued Brunger. "This package is a fantastic value for trekking in the Fitz Roy Range including hiking on the massive Perito Moreno Glacier outside of El Calafate."
The day-by-day itinerary includes:
Day 1 : Arrive Buenos Aires
Day 2 : Fly El Calafate, drive onward to El Chalten
Day 3 : hike to Laguna de los Tres
Day 4 : hike to Laguna Torre
Day 5 : Back to El Calafate
Day 6 : boat and hike along Perito Moreno Glacier
Day 7 : Return home
Brunger shared that Peru tours will be the category for next week's discount, with Costa Rica and Amazon tours still to come.
About Adventure Life:
Adventure Life is a company of travelers with a passion for sharing the world with others. Our travel experience runs deep, from years volunteering in rural Africa and Central America, to research trips in Asia, studying in Europe, guiding in the Rockies, and just bouncing around every corner of the world. This deep experience is the reason behind our pioneering approach to travel and award winning itineraries. For nearly fifteen years we have been creating personal itineraries that immerse our travelers in the vibrant colors of a place, leaving both our guests and hosts enriched by the experience. From our beginnings as a Latin America specialist, we now offer private journeys, small group tours, and expedition voyages throughout the world. We pride ourselves on our intimate knowledge of our destinations and our dedication to sharing the world.