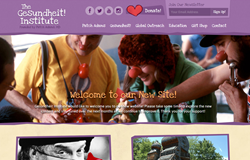 When we decided to look for a new company to take on a complete redesign of our website, we couldn't have imagined a more perfect fit than Idea Marketing.
Plainfield, IL (PRWEB) September 23, 2014
The Gesundheit! Institute founded by Patch Adams, MD was in need of a new design and restructuring for their existing website. The Institute had outgrown their previous website as the organization had grown. They needed a way to navigate to the different branches of the organization in a more accessible way, as well as present the look and feel of the site in a more fun and brand representative style.
In 1971, when Patch Adams graduated from The Medical School of Virginia, he began The Gesundheit! Institute with a group of twenty friends, including three doctors from a six bedroom communal home. In it's 12 years of operation, they served approximately 15,000 patients and affirmed that a supportive and loving community could heal physical and mental illness. In the 1980s, Gesundheit! Institute expanded with the purchase of a 321 acre land/farm/hospital project in Pocahontas County, West Virginia as well as international humanitarian clown trips to war-torn Russia.
After the 1998 debut of the semi-biographical movie starring Robin Williams, Patch Adams, Gesundheit! expanded it's development and outreach with a worldwide lecture tour to raise awareness and support for the hospital. The Institute began to develop and refine different goals for Gesundheit! as is now much clearer on it's website.
Global Outreach programs and clowning missions now expand to more than 50 countries and focus on the areas of healthcare, community development and building projects. In 2007, the Board of Directors of the Gesundheit! Institute launched a fundraising campaign to build the Patch Adams Teaching Center and Clinic in Pocahontas County, West Virginia and started construction in 2011. The educational branch of the Gesundheit! Institute, The School for Designing a Society and integrates with their CRM system to allow one-time or recurring donations, newsletter signups and purchases through the gift shop.
"When we decided to look for a new company to take on a complete redesign of our website, we couldn't have imagined a more perfect fit than Idea Marketing," said Atomic Zagnut Adams, web team supervisor for The Gesundheit! Institute. "We were initially drawn to the playfulness of the design of Idea website, which we felt was an element lacking in our previous site. Since humanitarian clowning is an important part of our work, we were interested in adding an element of fun, added color, and an interesting presentation of our organization. We also loved the animated scrolling effects on the site and thought incorporating something similar would be great on the Gesundheit! site to entice visitors to stay longer and explore the diversity of our organization's activities. Once we started working together, Idea was always extremely generous with their time and patient with the peculiarity of our needs. Their communication was prompt and they were always available for phone meetings when necessary. Throughout the process, they helped our in-house webmaster to learn the intricacies of the site in order to facilitate our ability to make edits going forward. We are extremely happy with the new website and grateful for our relationship with Idea Marketing group."
Idea Marketing Group is a web design and marketing firm located near Chicago, IL. Since 2009, Idea strives to provide creative, unique and cutting-edge websites along with individualized goal-driven marketing. Clients choose Idea Marketing for award winning web design and marketing services from an experienced and passionate web team that helps grow businesses and excel non-profit causes. To learn more about The Gesundheit! Institute or Idea Marketing, visit http://www.ideamktg.com or call 312.834.7001.