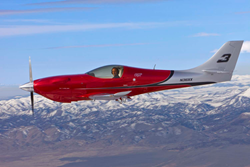 I never stop redesigning and rebuilding my plane to make it faster.
Spanish Fork, UT (PRWEB) April 16, 2014
Mike Patey, an award-winning aviator and Utah entrepreneur, will fly an experimental aircraft at the Mojave Airport in Southern California to attempt three new world speed records in two days. The competition takes place April 18-19, 2014.
The National Aeronautic Association will have observers on site to verify several attempts to set new flight records by experimental aviators. Patey will attempt to win the 500km, 1000km, and 2000km closed course speed records in his highly modified 780 Lancair Legacy.
"Aviation is a part of just about every moment of my life and a huge part of my family's life too," said Patey. "I never stop redesigning and rebuilding my plane to make it faster."
Patey is working 24 hour days to get the plane ready for the event. "My plane is flying with a one of a kind supercharged 780 engine that I built with my own induction design.I also did a lot of other modifications, including cutting the wings back and building custom wingtips."
Aviation runs in Patey's family. Mike and his identical twin brother Mark, not only set records in aviation, they are serial entrepreneurs who have started many successful businesses. They travel all over the world for business, flying their own planes instead of taking commercial airlines.Their wives are pilots too and each has four children who are also aviation fans (some are studying to be pilots).
Mark and Mike have built seven experimental aircraft including: Epic Lt, RV6, RV10, Compair 8, Zenith 801, and their beloved twin Lancair legacy Racers. "We set the transcontinental world coast to coast speed records together in both planes flying wingtip to wingtip across the country. We both hold multi-engine instrument land and sea, and commercial ratings. We also hold various type ratings, aerobatic training and our rotorcraft helicopter license," said Patey.
Mike is an engineer who specializes in hybrid vehicle design. He and his brother have started several businesses and even saved a Costa Rican soccer team (see http://www.deseretnews.com/article/865575538/Utah-native-the-unexpected-savior-of-Costa-Rican-soccer-team-Herediano.html). He started Prodigy Engineering and was a key figure in many successful companies such as BlueStep Technologies, 4Care Pharmacies, and Growth Climate Education and Therapy Centers.
In addition to building businesses and flying airplanes, the brothers find time to give back to the community. They volunteer their time and personal helicopter to Utah County Search and Rescue where their contribution has helped save lives. The pair was honored with The Citizen Lifesaving Award from the state of Utah in 2010 for the many lives that were saved by their donation and efforts.
For the last two years Mike has raced in the Sport Air Racing League in the unlimited category. Last year, he finished the season as the only undefeated racer the entire year and set numerous all time track records. This year he hopes to go even higher and not only continue his winning streak, but set some world speed records too.