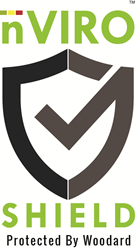 St. Louis, MO (PRWEB) August 01, 2016
Woodard Cleaning & Restoration is celebrating its 70th year in business and with that milestone comes the company's newest revolution in cleaning – nVIRO Shield™. nVIRO Shield™ is a pathogen control system that kills bacteria in a matter of minutes and provides a 3-month shield to protect against the growth of additional cells. Utilizing an electrostatic mist machine, trained Woodard technicians can treat a 2,000sqft space in only 1.5 hours, helping businesses to save on labor costs as well as maximize disinfection efforts.
The nVIRO Shield™ system contains 3 solutions, each specializing in its own form of cleaning and protection:
1. Photocatalyst Protective Sealant (PPS) – Protects surfaces and is long-lasting and high-binding
2. EPA-registered broad spectrum disinfectant and sanitizer (silver & citric acid)
3. EPA-registered disinfectant formulated to control C. diff spores (silver, hydrogen peroxide, and peroxyacetic acid)
Through the distribution of positively-charged molecules, the spraying motion used to apply nVIRO Shield™ effectively treats all visible and even hidden surfaces, making the spray cleaning more effective than hand-cleaning.
nVIRO Shield™ is being adapted by commercial buildings, healthcare facilities and ambulances, schools, and fitness centers to enhance their cleaning programs, as well as in residential homes as an effective treatment against mold.
"nVIRO Shield™ is a totally new revolution in cleaning, and we're thrilled to be able to introduce it to our clients. We're experts in cleaning and restoration, and this is the perfect system to be able to bring additional value to the St. Louis area. nVIRO Shield™ is going to help minimize infection, increase business efficiency, and even save money for the clients who use it. It's a win-win-win!" – Dave Christoff, Chief Revenue Officer
About Woodard Cleaning and Restoration
Woodard Cleaning & Restoration Services was founded in 1946 as St. Louis' first in-home rug and carpet cleaning company, and is now the area's largest commercial and residential cleaning company for carpet, rugs, furniture, and hard surfaces. Additionally, Woodard Cleaning & Restoration is a preferred provider of water and fire mitigation services, as well as disaster reconstruction for residential, commercial, and institutional facilities. For more information, visit Woodard's website at Woodard247.com, or call (314) 300-9567.