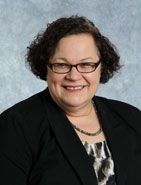 Cleveland, Ohio (PRWEB) June 12, 2014
In CHAMPS Patient Experience's most recent blog post, The Value of Patient and Family Advisory Councils, Carol Santalucia shares her thoughts on the topic.
One of the "tasks" Santalucia has most enjoyed in her career is developing patient and family advisory councils. She loves getting to know patients and families who are so willing to take the time to contribute in a meaningful way to the organizations where they, or a loved one, have received care.
In her work around the country, Santalucia has seen very effective patient and family advisory councils where it is clear the council's feedback is valued. This is so important if our healthcare organizations are really going to be "patient centered." She has been extremely impressed with organizations going beyond the traditional patient council, incorporating patient opinions into their healthcare delivery in new ways by asking patients and family members to:

Sit on hospital committees, such as quality, safety, or service excellence.
Share their personal experiences at forums for employees.
Serve on project teams that ensure the patient perspective is truly represented in all of the organization's future efforts.
Santalucia recently met some incredible patients who attended The Beryl Institute PX Conference because of their commitment to ensuring the patient voice is heard. Kudos to The Beryl Institute for forming a Global Patient & Family Advisory Council to ensure "the voices of patients and families are a central consideration in the strategic direction and offerings of the Institute."
And at the Cleveland Clinic Empathy and Innovation Summit, attendees were all moved as they watched this video made by a very courageous young patient, Morgan Gleason. It was an impactful reminder of what it feels like to be the patient in the bed.
As we continue this important work, Santalucia believes we must remember to include the patient's voice. She closes her blog by asking readers if they agree that patient and family advisory councils are a great place to start.
To learn more about the CHAMPS Patient Experience blog, PX Perspective, visit http://www.pxperspective.com.
###
In partnership with Santalucia Group, CHAMPS Patient Experience offers a variety of services to enhance the patient experience. Led by Carol Santalucia, a recognized leader in patient experience with more than 30 years of expertise, CHAMPS offers outcomes-based services designed to create an optimal patient experience. We believe providing an optimal patient experience not only makes sense intuitively but also leads to improved healthcare outcomes, increased patient loyalty and an enhanced financial position for our clients. To learn more about us and our services, visit http://www.champspatientexperience.com.