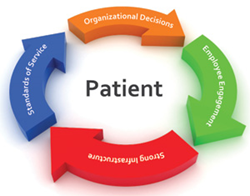 Cleveland, Ohio (PRWEB) February 28, 2014
In CHAMPS Patient Experience's most recent blog post, Does your organization take a patient-centered approach?, Sarah Fay shares her thoughts on the topic. She explains the meaning of a patient-centered approach which is putting the patient (and family, when appropriate) at the center of everything and every decision.
Fay encourages readers to evaluate their organization using the statements below. On a scale of 1-5, with 1 being strongly disagree and 5 being strongly agree, rate the following.

Patient feedback drives and informs organizational decision and improvements.
Every employee clearly understands his/her role in creating an optimal patient experience. (Consider both clinical and nonclinical employees.)
There is a strong infrastructure in place to share data, roll out initiatives, track progress, align priorities and celebrate successes.
There are systems in place to engage, support, empower and hold employees accountable for high standards of service.
Fay closes her blog by urging the readers to use the statements above and the corresponding ratings to help determine where they could improve their patient-centered approach.
To learn more about the CHAMPS Patient Experience blog, PX Perspective, visit http://www.pxperspective.com.
###
In partnership with Santalucia Group, CHAMPS Patient Experience offers a variety of services to enhance the patient experience. Led by Carol Santalucia, a recognized leader in patient experience with more than 30 years of expertise, CHAMPS offers outcomes-based services designed to create an optimal patient experience. We believe providing an optimal patient experience not only makes sense intuitively but also leads to improved healthcare outcomes, increased patient loyalty and an enhanced financial position for our clients. To learn more about us and our services, visit http://www.champspatientexperience.com.