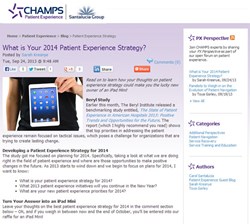 Clevland (PRWEB) September 26, 2013
In CHAMPS Patient Experience's most recent blog post, What is Your 2014 Patient Experience Strategy?, Sarah Kresnye shares her thoughts on the topic. She shares findings from The Beryl Institute's recently released benchmarking study entitled The State of Patient Experience in American Hospitals 2013: Positive Trends and Opportunities for the Future. The Beryl study shows that top priorities in addressing the patient experience remain focused on tactical issues, posing a challenge for organizations that are trying to create lasting change.
Kresnye closes her blog by asking readers to weigh in on the topic, noting that their comments would enter them into a contest to win an iPad Mini.
To learn more about the CHAMPS Patient Experience blog, PX Perspective, and their iPad Mini contest, visit http://www.pxperspective.com.
--
About CHAMPS Patient Experience
In partnership with Santalucia Group, CHAMPS Patient Experience offers a variety of services to enhance the patient experience. Led by Carol Santalucia, a recognized leader in patient experience with more than 30 years of expertise, CHAMPS offers outcomes-based services designed to create an optimal patient experience. To learn more, visit http://www.champspatientexperience.com.