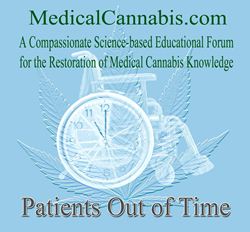 This conference will change your understanding of the human body and help you heal your patients.Mary Lynn Mathre, RN, MSN, CARN - Patients Out of Time
San Francisco, CA (PRWEB) May 01, 2014
United Patients Group, a leading resource for medical cannabis news and information, invites care providers, patients, and anyone interested in the latest scientific research on cannabis to join the Eighth National Clinical Conference on Cannabis Therapeutics - Conference Theme: The Endocannabinoid System and Age Related Illnesses, held May 8–10 in Portland, Oregon.
The biennial conference is produced by Patients Out of Time, an organization devoted to educating healthcare professionals on the therapeutic benefits of cannabis.
"We are proud to support this National Clinical Conference on Cannabis Therapeutics," said John Malanca, founder and owner of United Patients Group. "This forum empowers healthcare professionals and patients with the ability to learn about the results of cannabis research. Cannabis science is growing by leaps and bounds, and we're excited to hear about the latest advances in this critical area of healthcare."
Mary Lynn Mathre, Patients Out of Time - Informative Conference Video
More than thirty speakers—mainly MDs and PhDs—are scheduled to give presentations on urgent topics in the medical cannabis field, including:

Cannabinoids: Tackling the Cardiovascular Problems
The Art of Cannabinoid Medicine: Clinical Approaches to Maximize Benefit and Minimize Harm
Cannabis Use in a Nursing Home Setting
What's in Your Medicine? CBD, Terpenes, and other Ingredients in Medical Cannabis
Complex Conditions and Cannabis: Individualized Treatment Yields Promising Results
…and many other fascinating topics.
This conference is accredited by the University of California San Francisco School of Medicine. Medical professionals can receive continuing medical education credits for attending.
"If you are a health care professional and don't know about the endocannabinoid system (ECS), this conference is for you. This conference will change your understanding of the human body and help you heal your patients," said Patients Out of Time's President Mary Lynn Mathre, RN, MSN, CARN.
Events will be held at the University Place Hotel & Conference Center and the National College of Natural Medicine in beautiful downtown Portland. The conference is open to MDs, healthcare professionals, members of the public, students, and the media. Special pre-conference workshops for doctors, nurses, and lawyers will be held on May 8.
To register for the conference, visit http://www.medicalcannabis.com/event-registration/?ee=1.
"Please join us for this invaluable opportunity to learn more about cannabis and the endocannabinoid system," invited Malanca. "The presentations at this conference will show us the way to the future of medical cannabis."
LIVE WEBINAR AVAILABLE: To spread the education, Patients Out of Time will be simulcasting this event to individual and group locations, and can provide Continuing Education credits to health care professionals for off-site viewing. Simulcast will be provided at no charge to elected officials, law enforcement, and government departments.
For more information about Patients Out of Time, visit http://www.medicalcannabis.com/ or visit http://www.UnitedPatientsGroup.com.
About UnitedPatientsGroup.com
UnitedPatientsGroup.com is a discreet, safe, and professional online medical cannabis information resource for prospective and current patients, caregivers, and medicinal cannabis industry professionals.
While most online medical marijuana sites cater to patients already familiar with medical marijuana, the UnitedPatientsGroup.com website is a comprehensive and easy-to-use information source for people of all ages and experience levels, from novice medical cannabis users to experienced industry professionals. The site's News, Resource, and Blog pages introduce new patients to the ins and outs of medical marijuana healthcare, while helping experienced providers stay abreast of the latest developments in THC and CBD therapies.
A complimentary Five Star-rated United Patients Group medical marijuana app is available on the iTunes app store for iPhone 3GS, iPhone 4, iPhone 4S, iPhone 5, iPod touch (3rd generation), iPod touch (4th generation) and any iPad.