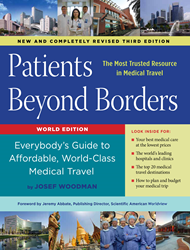 With or without Obamacare, some 86 million Americans will remain woefully un- or under-insured for common but expensive treatments. Worldwide, patients young and old are one diagnosis away from financial ruin."
Chapel Hill, NC (PRWEB) June 19, 2014
Healthy Travel Media, publishers of Patients Beyond Borders: Everybody's Guide to Affordable, World-Class Medical Travel, today announced publication of the updated and expanded Third Edition of the world's best-selling consumer guide to medical tourism and international health travel.
This impartial, easy-to-navigate print and eBook reference gives health travelers the road map required to make safe, cost-effective decisions about traveling abroad for healthcare.
Driven by rising costs of elective treatments and increasing wait times for specialty procedures, more than a million US patients will cross borders for medical care this year, nearly double the number only three years ago. "With or without Obamacare, some 86 million Americans remain woefully un- or under-insured for common treatments related to dentistry, vision, hearing, weight loss, fertility and more," says Patients Beyond Borders author Josef Woodman. "Worldwide, millions of patients young and old are without access to quality, affordable medical care, often one diagnosis away from financial ruin."
Patients Beyond Borders features hundreds of newly-accredited international hospitals and clinics, providing healthcare consumers a wide range of affordable medical tourism options for quality care that did not exist just ten years ago. As costs for medical procedures continue to plague employers and healthcare consumers alike, savings of 40-85% compared to US medical costs are still common in more than 20 leading medical destinations around the world.
Patients Beyond Borders will be available in print and fully searchable eBook format. A "Quick-Read" edition will provide readers with medical travel essentials, along with selected links to the official Patients Beyond Borders website. The book's foreword, penned by Jeremy Abbate, publishing director of Scientific American Worldview, provides perspective on medical tourism as a vital component in the globalization of healthcare and medical innovation.
About the Author
Josef Woodman is an outspoken advocate of affordable, high-quality medical and preventive care for healthcare consumers worldwide. As CEO of Patients Beyond Borders, Woodman has spent eight years touring more than 200 medical facilities in 35 countries, researching and vetting international healthcare options. Co-founder of MyDailyHealth (1998) and Ventana Communications (1987), with a pioneering background in publishing, health and technology, Woodman has compiled wealth of information and knowledge about international health travel, telemedicine, wellness, integrative medicine, and consumer-directed healthcare.
Woodman has lectured at the UCLA School of Public Health, Harvard Medical School, Duke Fuqua School of Business, Scientific American and the International Society for Travel Medicine. He has keynoted and moderated conferences on medical tourism and global healthcare in 20 countries. He has appeared in numerous print and broadcast media, including The Economist, The New York Times, CNN, ABC News, Fox News, Huffington Post, Barron's, The Wall Street Journal, and more.
About Patients Beyond Borders
Based in Chapel Hill, NC, Patients Beyond Borders publishes books, eBooks, video, online, mobile, and other resources for healthcare consumers seeking high-quality, affordable options in medical care. Its flagship international title, Patients Beyond Borders, now in its Third Edition, is the world's leading consumer reference guide for medical tourism. Country Editions, city editions, and facility editions, with more than 150,000 copies in print, help healthcare consumers make informed choices in searching, vetting, and obtaining safe, high-quality, affordable medical care around the world.
Patients Beyond Borders is available through booksellers everywhere and is distributed to the trade by Publishers Group West.
For media queries, please contact media(at)patientsbeyondborders(dot)com.
Qualified members of the media are invited to request a review copy; please contact media(at)patientsbeyondborders(dot)com.
Note: Researchers and qualified media professionals may also request updated comparative cost information by country for typical treatments, patient flows by destinations, and preferred specialties broken out by country. Please contact aroberston(at)patientsbeyondborders(dot)com.
"Most of us in the developed world hold dear the concepts of personal choice and the democratization of knowledge, so that it serves the many, not merely the rarified few. In this sense, the seeking of health solutions beyond one's own national boundaries can be seen as part of the broader patient empowerment movement, in which the locus of control begins to shift from provider to health seeker. For those seeking medical and health solutions now, or those wanting to discover options within the larger, international arena in the not too distant future, there is no better source of sound data and information than Patients Beyond Borders." - from the foreword to Patients Beyond Borders Third Edition by Jeremy Abbate, Publishing Director, Scientific American Worldview.
Paperback, 320 pages
ISBN-13: 978-0990315407
Nonfiction: Health/Travel
Price: $24.95 US