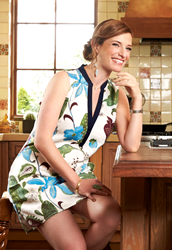 "There is simply no one on television who has Pati's charm, skill and heart. She explodes with passion. It is her irrepressible gift." - Gordon Elliott, executive producer
Washington, DC (PRWEB) September 07, 2016
Pati's Mexican Table, the Emmy and James Beard Award nominated Mexican cooking and travel series from acclaimed chef and author Pati Jinich, premieres its fifth consecutive season on PBS and public television stations nationwide the weekend of September 10.
"There is simply no one on television who has Pati's charm, skill and heart. She explodes with passion. It is her irrepressible gift," said Executive Producer Gordon Elliott. "Pati is once again so happy and proud to guide us to the wonderful undiscovered places and people that make up her Mexico. Season five is her best ever." 
The new 13-episode season comes hot off the series most successful showing yet. Season four reached 12.9 million viewers in the first run, had carriage in 94% of U.S. households and was the only program in 2016 to earn nods for Best Culinary Series and Outstanding Host for both the Emmy and James Beard Awards.
In the new season, Jinich explores the Maya world in Mexico's Yucatán Peninsula on a road trip that spans three states, Campeche, Yucatán and Quintana Roo. She goes deeper than ever to uncover the origins and traditions behind the region's unique cuisine with an action packed documentary-style approach, then brings it all back to her home kitchen for the cooking segments that anchor the show.
"With the Yucatán as our inspiration, the entire season is fed by an endless bounty of culture, history and culinary treasures. Pati has packed those experiences and flavors into some of her tastiest, most accessible recipes yet," said Series Director Dan Connell. "It is truly a privilege to explore the culture and cuisine of Mexico through her eyes. It's always a fun, spontaneous and informative experience." 
The episodes feature cooks and chefs, from the hottest street vendors to some of the finest kitchens on both sides of the border. Jinich has extended visits that go beyond tastings to uncover in-depth, meaningful stories. 
The season debuts in the little known city of Champotón, Campeche, where Jinich joins local matriarch Chachi to make a traditional pibi pollo in an underground pit. It wraps up back in Washington, D.C., as Jinich lets the city's star chef José Andrés take over her kitchen in a sparks flying "Spain meets Mexico" episode.
Season five brings viewers along for more culinary research and exploration in Mexico. Jinich's three boys join her as they harvest habanero chiles, climb ancient ruins, dive into cenotes and try some of the regions' popular dishes. 
Back in her home, pastry chef Alisa Romano, Jinich's sister, shares in some delicious cooking and hysterical reminiscing in an episode inspired by their childhood family vacations in Cancún. In the first ever Thanksgiving episode, Jinich's close friends join her family for an epic turkey dinner with Latin sazón. Jinich's devoted taste testers, her three sons, appear whenever they are home, including a bittersweet episode where she passes on cooking advice to her oldest son, Alan, as he prepares for college. 
"In this season, I'm trying to show that how you honor the past and where you come from, as well as how you embrace future possibilities, influences the way you cook and feed your family," Jinich says. 
Audiences abroad are getting to know Jinich's adventures, as well. The series has been picked up for international distribution and is already airing in Southeast Asia. It will premiere in Australia and Canada this year.
Pati's Mexican Table is a co-production of WETA Washington, D.C. and Mexican Table, LLC in association with Follow Productions.
About Pati Jinich: Pati Jinich is host of the popular PBS show Pati's Mexican Table, going on its fifth season, and resident chef of the Mexican Cultural Institute in Washington, D.C. She appears regularly on NPR, The Splendid Table, NBC's Today Show, ABC's The Chew, and CBS's The Talk. She hosts live programs for the Smithsonian Institution and has cooked at the White House for President Obama's Cinco de Mayo celebration. She was nominated for two James Beard Awards and two Emmy Awards in 2016. She lives in Chevy Chase, Md., with her husband and three sons. Her new book is Mexican Today: New and rediscovered recipes for contemporary kitchens, published by Houghton Mifflin Harcourt.
About WETA Washington, D.C.: WETA serves the District of Columbia, Maryland and Virginia with high-quality television and radio programming. As the leading PBS station in the nation's capital, WETA broadcasts on four channels: WETA TV 26, WETA HD, WETA UK and WETA Kids. For national PBS audiences, WETA produces PBS NewsHour, Washington Week with Gwen Ifill, films by Ken Burns and Henry Louis Gates, Jr., and performance specials from the White House and the U.S. Capitol.
About Follow Productions: For over a decade, Follow Productions has been one of television's leading producers of high-quality lifestyle programming. Formed in 1999, it quickly turned out a string of successful series by breaking out of traditional cooking environments and emphasizing "real world" elements.