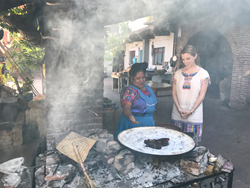 Washington, D.C. (PRWEB) September 07, 2017
Season six of "Pati's Mexican Table," the Emmy and James Beard award nominated cooking and travel series from celebrated Mexican chef and cookbook author Pati Jinich, begins airing on PBS and public television stations this weekend. A trailer is available as a sneak preview.
The new 13-episode season features the Mexican state of Oaxaca, one of the country's top culinary destinations. Oaxaca is a hub of art and cuisine that has been hugely influential on Mexico's gastronomy and culture for centuries.
"Oaxaca is a magical place that really stays with you," said Jinich. "I had been wanting to take the crew there for many years to help me capture it and share it with our viewers."
Jinich, with her inquisitive wit in tow, traverses the region's cultural centers and far flung small villages to reveal its culinary treasures – from the pre-Hispanic to modern interpretations – and get to know the people behind them. She tours a fifth-generation family run mezcal operation, meets an acclaimed chef who cooks recipes handed down from her native ancestors thousands of years ago, visits a Top Chef Mexico winner in his modern restaurant, enjoys intimate family meals with renowned chefs, and much more.
The episodes are part travelogue, part real-time cooking instruction, where the field pieces in Oaxaca inform the recipes Jinich creates in her home kitchen in Washington, D.C. She guides viewers through her own interpretations of the Oaxacan dishes that are accessible to any home cook and often mesh with daily life in her household.
"The people, the food and the fascinating stories behind the cuisine in Oaxaca absolutely blew me away," said series director Dan Connell. "I can't wait for people to see the new season and try the recipes, some of Pati's best yet."
Season six will be carried on PBS and public television stations nationwide. Local listings searchable by zip code can be found online here.
Past seasons are available for on-demand viewing through Amazon Video.
"Pati's Mexican Table" is a co-production of WETA Washington, DC, Mexican Table LLC, FRANK. and Switchblade.
About Pati Jinich:
Born and raised in Mexico City, Pati Jinich is the host of the Imagen Award winning and Emmy, James Beard and IACP nominated PBS television series "Pati's Mexican Table" now on its sixth season. She is resident chef of the Mexican Cultural Institute in Washington D.C. and author of two cookbooks, "Pati's Mexican Table: The Secrets of Real Mexican Home Cooking" and "Mexican Today: New and Rediscovered Recipes for the Contemporary Kitchen." Pati is a regular guest on NBC's "Today," CBS's "The Talk," ABC's "The Chew," NPR's "All Things Considered" and "The Splendid Table," and Univision's "Despierta America." She has cooked at the White House for President Obama's Cinco de Mayo and Easter celebrations. This year, the Council of the Americas named Pati one of the "Top 5 Border Ambassadors" who have performed outstanding work bringing the United States and Mexico closer together in their "Americas Quarterly" magazine. She lives in Chevy Chase, Md., with her husband and three sons.
About WETA:
WETA Washington, D.C., is one of the largest producing stations of new content for public television in the United States. WETA productions include "PBS NewsHour," "Washington Week," "The Kennedy Center Mark Twain Prize," "The Library of Congress Gershwin Prize for Popular Song," "In Performance at the White House" and documentaries by filmmaker Ken Burns and scholar Henry Louis Gates, Jr. WETA presentations include "America's Test Kitchen," "Cooks Country from America's Test Kitchen," "Martha Stewart's Cooking School," "Pati's Mexican Table," "Sara's Weeknight Meals," "Globe Trekker" and "Daniel Tiger's Neighborhood." Sharon Percy Rockefeller is president and CEO. WETA studios and administrative offices are located in Arlington, Va. More information at http://www.weta.org. 
About FRANK.:
FRANK. is a multi-faceted production company that focuses on non-scripted television and digital content. As the creative minds at the helm of FRANK., award-winning producers Dan Connell and Pasquale DeFazio have decades of combined experience in creating and producing a variety of highly acclaimed culinary, travel and lifestyle programming.