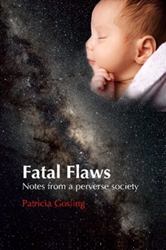 FROME, England (PRWEB) October 14, 2014
As a concerned citizen of the United Kingdom, author and psychotherapist Patricia Gosling worries about the state of the country. The phone-hacking scandals in the newspaper industry and accusations of police corruption have Gosling wondering what will happen next.
Her new book, "Fatal Flaws: Notes from a Perverse Society" (published by Lulu), presents her thoughts on these and other societal problems and prescribes applicable solutions in a concise manner.
Gosling uses her professional experiences as a psychoanalytical psychotherapist to diagnose the problems she sees plaguing the U.K. She defines these issues as a result of a "perverse society," meaning an associated lack of reality sense, denial of difference and erosion of proper boundaries.
The problems are a result of emotional immaturity, Gosling asserts, which can distort and undermine a person's ability to face real-life issues if not addressed early on in one's development. Gosling traces the origins of the "perverse society" and includes an explanation of how it began.
"Fatal Flaws" imagines a new perspective to help readers understand current conflicts in society. Through her book, Gosling hopes to bring a fresh perspective to these problems and inspire readers to act.
"Fatal Flaws"
By Patricia Gosling
Softcover | 6.13 x 9.21 in | ISBN 9781471078200
About the Author
Patricia Gosling is a retired psychoanalytical psychotherapist. Her background in medicine and experience caring for her family provided excellent training for her profession. She previously published "A Curious Eye" and "Loving & Loss."
Lulu empowers people of all ages to explore and express their interests, passions and expertise through books, photography and art. Since introducing self-publishing in 2002, Lulu has empowered creators in more than 225 countries and territories to produce nearly two million publications. Lulu Jr. allows children to become published authors, encouraging creativity, strengthening literacy and building self-esteem. Picture.com offers professional photography of collegiate and professional sports, memorable and historic events, fine art and home décor. For more information, please visit http://www.lulu.com.