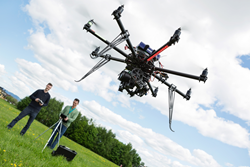 In today's multimedia world it is more important than ever to think outside the marketing box. It's no longer about browsing the Sunday paper.
Bradley Beach, New Jersey (PRWEB) July 29, 2014
As a real estate market leader in Bradley Beach, New Jersey and surrounding Shore-area suburbs, Patrick Parker Realty continues to innovate by becoming the first area brokerage to use aerial drones to market properties.
New technologies like drones that capture aerial video are revolutionizing the marketing of real estate. Using drones, also known as unmanned aerial vehicles (UAV), homebuyers can view a listing in a way that no other photos or videos allow.
"We're always looking for new strategies, and that's where the drone comes in. With over 95 percent of homebuyers beginning their search online, coupled with the expectation for greater interactivity, high quality, detailed video is very important. With aerial videos a potential buyer can get a greater feel for the details of the property inside and out; including a sprawling comprehensive view, depth of the home, size of the lot, and how the neighborhood looks and what else surrounds the house," says Patrick Parker, Broker and Owner.
"Particularly since many of our listings are waterfront or water adjacent, a potential buyer can really understand the beauty of the area, the context of the home, and the proximity to all the features the community has to offer. In a big way a home sale is about selling lifestyle, and this is where the drone is so important. A buyer can get a better impression of life in their new residence," continues Parker.
Often times the virtual tours real estate agents provide are just photo slideshows. Every once in a while an Agent will produce an actual video showcasing the home and all its amenities, but even that tour doesn't give the detail that a drone video can provide.
"Of course we're still learning how to best leverage this new technology, but we're excited to be the first in the area to implement it into our aggressive marketing strategy for our clients," says Parker.
Patrick Parker Realty first introduced drone technology for their listing at 408 5th Avenue, Bradley Beach (MLS# 21424761). The video shows just how maneuverable and advanced drone technology is, and just how much height, alternative angles and high-resolution production enhances perspective.
"In today's multimedia world it is more important than ever to think outside the marketing box. It's no longer about browsing the Sunday paper," adds Parker.
Patrick Parker Realty offers this service to clients for free as an added value to their overall marketing strategy. Their goal is to expose a property to potential homebuyers in every way possible, and with these aerial tours, buyers will get a much better feel for a property before they pick up the phone or send an email to schedule a showing; something both seller's and buyer's greatly appreciate.
"We're visual people. The more you enable an understanding of what the house experience is like, the more time both the listing agent and the seller will save, because they'll only be showing the property to people who are truly interested," Parker says.
As effective as drones can be for real estate marketing, getting the technology off the ground has not been easy. All civil aircraft are subject to FAA regulation under U.S. law and the agency has yet to issue policy surrounding use of drone technology for commercial purposes, such as marketing for real estate.
In April, the National Association of Realtors sent a letter to the FAA urging the agency to speed up its process for issuing rules that will govern the commercial use of drones, but the agency has yet to rule.
"The FAA is currently developing a system for integrating commercial use drones into the national airspace. In addition, the National Association of Realtors, alongside a broad coalition of stakeholders, is working with the FAA to expedite the development of rules to allow real estate professionals to utilize drone technology to market properties," says Russell Riggs, NAR's senior regulatory policy representative.
Lack of regulation has still not deterred innovative Realtors to use drones to market properties.
"The use of drones in real estate is neither legal, nor illegal. It just has not been regulated yet," says Brian Doe, Director of Business Development at Home Jab; a real estate video production company offering a network of trained filmmakers who create aerial video for real estate marketing.
Patrick Parker Realty chose Home Jab to produce their aerial videos because of the high standards they set for training and safety. While there is currently no official class or certificate one must obtain to operate drones, Home Jab hired a licensed helicopter pilot to train their staff in the technology. The internal safety guidelines Home Jab maintains offers proof that both Home Jab and Patrick Parker Realty are taking the responsibility of shooting aerial footage very seriously. That way when the FAA does issue rules and regulations surrounding commercial unmanned aerial vehicles, both agencies can show they've done all they can to adhere to any guidelines that will inevitably be set forth.
"It's kind of like saying 'you can't speed,' but the road has no speed limit. So how do you determine what speeding is? There is no way to enforce any rule, there is nothing out there about UAV's, especially fewer than 55 pounds," says Doe.
"What the FAA states or claims they can't enforce. There was one case that went to court but was thrown out because there's no law saying it's illegal. They want to control the flow of it but realistically and legally they have no enforcement right, there are just no laws." continues Doe.
"Until they officially rule it out and it's against the law, we're going to continue doing what we do to offer value to our clients. In the meantime, if the FAA says 'you can't do this,' we can say 'show us where we can't,' and they won't be able to." Parker says.
"It's going to be a big part of the industry. We see aerial being a big part of marketing moving forward, and we are excited to already be using a technology that will likely become standard in the coming years," continues Parker.
###
For more information:
Patrick Parker Realty Website
Patrick Parker Realty Drone Aerial Video
Patrick Parker Realty Brochure
Patrick Parker Realty Listing Presentation
Patrick Parker Realty Blog