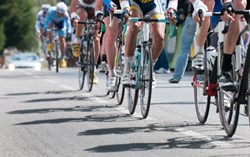 It is always an honor to be a part of anything that benefits our heroes.
La Quinta, CA (PRWEB) October 22, 2013
Brad Schmett, Broker Associate with Luxury Homes by Keller Williams today announced that the upcoming First Annual Patriot Ride for Our Heroes scheduled for Friday October 25 and Saturday October 26 will bring the City of La Quinta into sharp focus for luxury home buyers and real estate investors as thousands descend on the valley to participate in the ride and vendor Expo.
Honoring and benefiting charities related to our Military Veterans and Active Military, Fire Departments and Police Departments, the ride and accompanying Expo promises to raise substantial and much needed funds. An assortment of ride lengths ranging from a mile to 100 miles have been planned to accommodate every sports ability and physical condition so that everyone may participate. Registration is required by mail or via the event website.
Schmett recently commented, "It is always an honor to be a part of anything that benefits our heroes. I could not be more pleased that La Quinta is the chosen venue for this First Annual event which I know will now be a cherished local tradition. Thousands of riders and walkers will be taking part many of whom are new to the area as tourists or visitors. This will create an increased demand for local homes and given the low interest rates we are enjoying will also allow families to snap up dream homes they thought were out of reach. We look forward to welcoming new residents to our beautiful desert."
A two day Vendor Expo will feature a wide array of shopping opportunities and there is a long list of raffle prizes on tap as well. One of the events highlights will be a 5 miles around the trendy and scenic La Quinta Cove.
For more information on the First Annual Patriot Ride visit http://www.patriotrideforourheroes.com.
To find out more about investing in La Quinta, CA real estate visit http://www.laquintarealestateinfo.com.
About Luxury Homes by Keller Williams: Luxury Homes by Keller Williams – La Quinta, is an exclusive, elite and sophisticated group of real estate consultants raising the bar for service in the La Quinta and Palm Springs area residential real estate market.