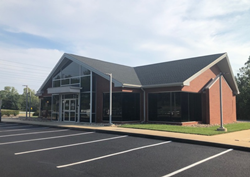 "We are very excited to be able to better serve our members and the community with a full-service branch in Frederick, where we have a strong member base who live and work." - Brad Warner
FREDERICK, Md. (PRWEB) October 05, 2021
Patriot Federal Credit Union is pleased to announce the opening of its 10th full-service branch, located at 5099 Corporate Drive, at the corner of Corporate Drive and New Design Road (across from Kingsbrook Shopping Center), Frederick, Maryland. The credit union will kick-off its Grand Opening Celebration Week, which runs from October 9th thru the 16th with a shred event and a Live Remote with 99.9 Free Country WFRE-FM on Saturday, October 9th. The Grand Opening will feature prizes and special offers throughout the week.
The Ballenger Creek – Frederick Branch will create 7 jobs, is handicap accessible and will be Patriot's 3rd full-service location in Maryland. The approximately 3,600 square foot facility includes two drive-up lanes and a drive-up Smart ATM which dispenses withdrawals in denominations from $5 to $20 bills, teller towers and 'service spot' area for transactional needs, an interactive kiosk and tech bar, as well as member service offices and a conference room to assist members with their borrowing, savings, retirement planning, business services and mortgage needs. Lobby and drive-up hours are Monday-Thursday from 8:30 AM until 5:30 PM, Fridays until 7 PM, and Saturdays until 1 PM.
"We are very excited to be able to better serve our members and the community with a full-service branch in Frederick, where we have a strong member base who live and work," said Brad Warner. "For over 55 years, Patriot has been focused on caring and helping members, offering the products and services to meet their needs and being convenient. This branch supports those goals and our mission of People Helping People."
ABOUT PATRIOT
Established in 1965, Patriot Federal Credit Union serves nearly 80,000 members locally and worldwide with mobile banking services, internet home banking, and access to over 55,000 surcharge-free ATMs worldwide. With assets in excess of $900 million, Patriot operates 10 full service branches and 16 SMART ATMs, serving Franklin County (PA), Washington and Frederick Counties (MD), and the Eastern Panhandle of West Virginia - Berkeley, Morgan and Jefferson Counties.