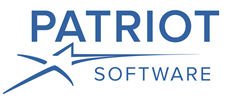 "Patriot Direct Deposit streamlines the onboarding process for our customers," says Michael Streb, Director of ACH Operations. "The entire onboarding process is completed within our web-based software application and is entirely paperless."
CANTON, Ohio (PRWEB) February 18, 2019
Patriot Software, LLC has released its own direct deposit option, Patriot Direct Deposit.
Since January 1, 2019, Patriot Software customers have paid ~$70 million in employee direct deposit.
Patriot Software's seamless direct deposit provides customers with a smoother onboarding process and a convenient way to pay employees.
Patriot's Direct Deposit offers a variety of funding and timing options. Customers can run their own direct deposit payroll using four-day standard ACH timing or they can utilize prefunding or bank wire transfers which allow them to run payroll with direct deposit as soon as the banking day before payday.
"Patriot Direct Deposit streamlines the onboarding process for our customers," says Michael Streb, Director of ACH Operations. "The entire onboarding process is completed within our web-based software application and is entirely paperless. Reducing the time it takes to complete the direct deposit process has resulted in a much smoother onboarding experience, which our customers love."
Patriot Direct Deposit is available to Basic Payroll and Full Service Payroll customers. Customers wishing to pay their 1099 contractors via direct deposit should have that capability with Patriot's accounting products in Q2 of 2019.
Patriot Software, located in Canton Ohio, provides award-winning online payroll and accounting software for small businesses. For information on all of Patriot's products servicing the United States, contact Patriot Software, LLC at 877-968-7147, or visit http://www.patriotsoftware.com.