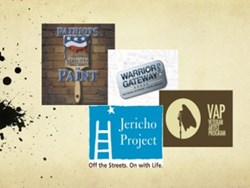 Warrior Gateway's newest initiative, Patriots in Paint, will launch this week at the Jericho Project's Kingsbridge Terrace veteran's community.
New York City, NY (PRWEB) October 25, 2013
On Monday, October 28th, muralist Sam Welty in partnership with Warrior Gateway's Patriots in Paint initiative and the Jericho Project, will begin painting a 70 by 15 foot wall which will become the backdrop to a half basketball court at the Jericho Project's Veterans Residence in the Bronx. This mural marks the first major event of the Veteran Artist Program's Arts & Service Celebration presented by Warrior Gateway. The celebration includes a week of service projects, networking, social and professional events for veterans interested in the arts as well as public events for everyone to enjoy.
This mural is part of Warrior Gateway's Patriots in Paint initiative, a program designed to build a strong network of community involvement through art, activities and multi-media platforms by painting large scale murals honoring the military in communities across the country. Jericho Project was selected as the site of the mural due to its mission to end homelessness at its roots for veterans and other people in need in New York City. This mural is the first in the Patriots in Paint series which seeks to highlight local impact for military veterans by rallying the community to recognize the work of organizations in local area serving the military.
The image for the mural chosen for the Jericho Project takes into consideration the various backgrounds of the veterans at Kingsbridge Terrace. The painting will reflect historic and modern images of the five different branches of service and is influenced by WWII recruiting posters. All five branches will have their own poster to honor the Army, Navy, Marine Corps, Air Force and Coast Guard in one large mural. The location serves as the backdrop to what will soon become a half basketball court for the veterans who call Jericho's residence home.
"Jericho is so pleased to be working with Warrior Gateway and Sam Welty to create an inspiring and beautiful mural that will be enjoyed by our veterans as well as the surrounding community," said Tori Lyon, Executive Director, Jericho Project.
The painting begins on Monday, October 28th, and will continue throughout the week with plans to finish in time for a dedication ceremony on Saturday, November 9th at 10:30 am onsite at the Jericho Project's Kingsbridge Terrace located at 2701 Kingsbridge Terrace, Bronx, New York. The dedication ceremony is part of the Veteran Artist Program's Arts & Service Celebration. Members of the local community are invited to volunteer on site at the Jericho Project building in the Bronx, particularly in the first few days of painting. Individuals can also show their support and appreciation for the creation of this mural by donating online through the Patriots in Paint Indiegogo campaign at: http://www.indiegogo.com/projects/patriots-in-paint.
About Warrior Gateway™: Founded in 2009, Warrior Gateway connects service members, military families, wounded warriors, families of the fallen and our nation's veterans with government and non-profit programs in their local community. Warrior Gateway harnesses state-of-the art technology and community collaboration to help today's military community make better decisions about what service provider they can go to for help. Their programs provide a public forum where people can share their experiences about the quality and effectiveness of those services. In 2011, Warrior Gateway's efforts were recognized with the Federal Computer Week Fed-100 award for significant contributions to the Federal IT community and in 2012 with a ComputerWorld Honors Laureate for our innovation in creating an open-source platform for information sharing. A proud partner of the Got Your 6 campaign, Warrior Gateway works to bridge the civilian-military divide with non-profit and government partners. Warrior Gateway is an IRS registered 501(c)3 organization. For more information, please visit: http://www.warriorgateway.org
About Jericho Project: Jericho Project is a New York City nonprofit aimed at ending homelessness at its roots for 30 years. Through supportive, affordable housing and customized services, Jericho enables an average of 1,500 individuals and families, including over 500 veterans, to build the cornerstones of a fulfilling life: housing, employment, wellness and family stability. http://www.jerichoproject.org