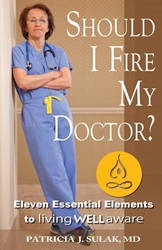 To keep traveling on the road to success you must invest in information and inspiration to keep on the path to glory.
Waco, TX (PRWEB) June 17, 2014
As a physician, Patsy Sulak sees the effects of too much medication, poor diet and lack of healthy lifestyle awareness every day. Her experiences have prompted her to become involved in the wellness movement and to reach the public through her new book, Should I Fire My Doctor?, published by Next Century Publishing. Dr. Sulak will be promoting her book at the Living WELL Aware conference on June 27th in Waco, Texas.
Dr. Sulak is not only an expert in the health care industry but the founder of Living WELL Aware, a group that promotes healthy lifestyles and advocates for patient control of their own healthcare. Located on the web at http://www.livingwellaware.com, Living WELL Aware has helped many patients become aware of the factors that affect their overall health and take ownership of these aspects through controlling diet, exercise and medication.
Should I Fire My Doctor? is about teaching individuals to take control of their health through awareness. For example, she talks about the important "numbers" such as cholesterol and what they really mean. Additionally, she talks about how today's healthcare industry often chooses to mask symptoms with medication rather than treating the root cause of the problem. In her book, Patsy outlines the 11 Essential Elements that make up total wellness and discusses how to control each factor to live the healthiest possible life.
The Living WELL Aware event will be held Friday, June 27, 2014, from 8:30 a.m. until 4:00 p.m. at the Region 12 Education Service Center in Waco, Texas. Topics will include the 11 Essential Elements to Maximize Health and Happiness; Seven Proven Metrics to Decrease Death and Disability; Healthy Eating; Cancer, Heart Attack and Stroke Prevention Strategies; and Weight Loss Without Drugs or Surgery.
About Patsy Sulak:
Dr. Patricia J. Sulak is a physician, researcher and educator who focuses her efforts on teaching the public about wellness and how to take control of personal health. She has appeared on CNN as well as in the Wall Street Journal, Cosmopolitan, Newsweek, TIME and US News and World Report. She is also the recipient of the North American Menopause Society's 2008 award and has been named among the "Best Doctors in America."