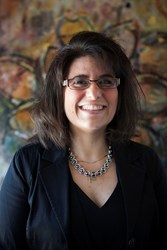 We are extremely thankful to The Patterson Foundation for their support of this transformational initiative and their shared vision for how we believe it will serve as a model for the future of higher education in the arts and design
Sarasota, FL (PRWEB) September 04, 2013
Ringling College of Art and Design President Dr. Larry Thompson announced the appointment of Ms. Cynthia Gravino as Associate Vice President - Collaborative Enterprises, AVP-CE, following a national search.
In her new position as Associate Vice President, Ms. Gravino will oversee the continuing development of the Ringling College Collaboratory, an initiative of The Patterson Foundation. While Ringling College has worked with a host of companies over the years to provide its students with multidisciplinary "real-life" projects, Cynthia will develop an institutional infrastructure for ongoing work that will provide support for faculty and students to enhance both the client and student relationships. Cynthia will also be the "go to" person as the experiential learning conduit between students, faculty and external organizations as they pursue their project needs.
Dr. Larry Thompson noted "The Collaboratory will streamline and centralize Ringling College's client relations and quality control, while broadening and strengthening our position in the marketplace. In managing the ongoing operations of The Collaboratory, Ms. Gravino will seek out opportunities to incubate new approaches and partnerships to promote collaborative learning at the College. We are extremely thankful to The Patterson Foundation for their support of this transformational initiative and their shared vision for how we believe it will serve as a model for the future of higher education in the arts and design."
"With Cynthia's energy, the Collaboratory will no doubt create new realities for the student experience at Ringling College, helping students become more workforce ready," said Debra Jacobs, President and CEO of The Patterson Foundation, which is partnering with Ringling College on this initiative. "The transformation of the art and design curriculum to include these hands-on, collaborative client experiences is something that is very exciting for the business community locally and beyond."
Ms. Gravino has an extensive background in both the academic and business worlds and specializes in the development of new and innovative programs focused on corporate collaborative partnership and strategic alliances. She comes to Ringling from the Columbus College of Art & Design (CCAD) where she was the Director of CCAD's MindMarket and the Office of Career Services. In that role, Cynthia was responsible for the overall strategic business plan and day-to-day management of MindMarket's incubator, project center and thought "lab," as well as contract negotiation, intellectual property issues, business coaching and client selection and stakeholder relationships.
"I am delighted to be able to play a significant role in the start-up and future growth of the Collaboratory at Ringling College," said Gravino. " It is very exciting to be able to facilitate these opportunities to the students and business community. Having a Center on campus that incorporates design and art into the business landscape will enrich the region providing students with the opportunity to move from the classroom to real-time business engagements while providing external constituents with immediate access to the extraordinary and unique talent of Ringling College."
Prior to CCAD, Gravino worked as Market Manager for Highlights Magazine for Children, Marketing Operations Manager for the Limited Brands, and held Career Service positions at Albion College, Lorain Community College and the University of Toledo. She holds an Executive MBA in Marketing & Entrepreneurship from the University of Toledo and a B.A. in Economics from The Ohio State University.
ABOUT RINGLNG COLLEGE OF ART AND DESIGN
Ringling College of Art and Design is a private, not-for-profit, fully accredited college offering the Bachelors of Fine Arts degree in 13 disciplines: Advertising Design, Computer Animation, Digital Filmmaking, Fine Arts, Game Art & Design, Graphic Design Illustration, Interior Design, Motion Design, Painting, Photography & Digital Imaging, Printmaking and Sculpture, and a Bachelor of Arts degree in the Business of Art & Design. Located on Florida's Gulf Coast, the picturesque 48-acre campus now includes more than 100 buildings, and enrolls nearly 1,300 students from the United States and abroad. It is recognized as being among the best and most innovative visual arts colleges in the United States as well as a leader in the use of technology in the arts. http://www.ringling.edu
ABOUT THE PATTERSON FOUNDATION
The Patterson Foundation believes that through communications, technology, and financial innovations, improvements may be achieved that transcend any single issue, entity, or geographic area. The Foundation provides resources to facilitate, expedite, and share methods, techniques, and tools, joining with others in creating new realities. For more information, please visit http://www.ThePattersonFoundation.org.
###