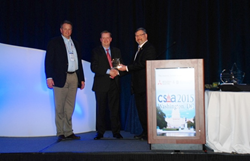 I nominated Steve for this award for his dedication and excellence in execution. Under Steve's leadership our Texas business continues to flourish and we continue to add engineers.
Auburn Hills, MI and Austin, TX (PRWEB) May 12, 2015
Patti Engineering, Inc., a leader in control system integration, today announced its Vice President of Texas Operations has been awarded the 2015 Rising Star Award from the Control System Integrators Association (CSIA). The award recognizes a relatively new member of the control systems integration field each year who has demonstrated attributes of a leader, innovative approaches and commitment to the industry.
While Palmgren, who has been working for Patti Engineering since 2001, is not new to the industry, he has taken on an array of new responsibilities since taking on the lead role in building a solid business base for the company in Texas. In the past six years he has worked tirelessly to build out the engineering team to serve the new region for Michigan based, Patti Engineering.
"I nominated Steve for this award for his dedication and excellence in execution. Under Steve's leadership our Texas business continues to flourish and we continue to add engineers," said Sam Hoff, CEO, Patti Engineering. "We recognized early on that Steve has an exceptional aptitude for engineering and a great team player mentality. When the economy hit hard times in 2008, we knew we needed to diversify our business and we identified energy and industrial rich Texas as a promising opportunity. It was Steve who stepped up to the challenge for Patti Engineering, uprooting his family from Michigan to spearhead our efforts to build a presence in Texas. His engineering talent 'wowed' new customers and under his leadership we have built a strong engineering team with an excellent track record for project success and customer satisfaction."
Palmgren is a licensed Texas Professional Engineer (P.E.). In addition to his duties as Vice President of Texas Operations, Palmgren actively leads the development of hardware and software designs for major client projects. Palmgren has more than 14 years of control systems experience from plant floor and assembly automation; to developing drilling technology; to specializing in assessing and manipulating databases. Palmgren earned his Bachelor of Science degree in Electrical Engineering with a minor in Computer Engineering from Kettering University in Flint, Michigan.
"I attribute much of my success in the expansion to Texas to the support of my family, Patti Engineering and the new partnerships we have formed in Texas," commented Palmgren. "This has been both a challenge and a fun journey and I look forward to our continued growth and expansion. Thank you to the CSIA for this honor!"
About Patti Engineering, Inc.
Patti Engineering, Inc. is a CSIA Certified control systems integration company offering high-caliber engineering and software development services. Patti Engineering's technical expertise in electrical control and information systems provides turnkey control systems integration for design/build, upgrade/retrofit and asset/energy management projects. Industrial automation, production intelligence and shop floor IT solutions services include: project management, electrical engineering, hardware design, hardware procurement, software development, installation, calibration, start-up testing, verification, documentation, training and warranty support. Customer satisfaction and project success earned the company placement in the Control Engineering Magazine's Hall of Fame. For more information, visit http://www.pattieng.com.