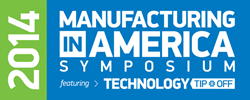 Auburn Hills, MI (PRWEB) March 13, 2014
Patti Engineering, Inc., a leader in control systems integration, today announced that its presence at the Manufacturing in America Symposium will go beyond just exhibiting. At the show, from March 19-20 at Ford Field in Detroit, MI, Patti Engineering Senior Engineer Dave Calme will present a session entitled, "A Practical Guide to Converting Obsolete Siemens S5 PLCs to Siemens S7." The conference, hosted by Electro-Matic and Siemens, is the event to be at for businesses and professionals involved or interested in the resurgence of American manufacturing.
On Thursday, March 20 at 3:00 p.m., Calme will present his seminar on converting Siemens S5 PLC applications to the current and more powerful S7. Calme, a Certified Siemens Engineer, is among five Patti Engineering employees that have achieved Siemens Global Technical Certification in the SIMATIC Technology areas of S7 PLCs, SIMATIC HMIs and SIMATIC Networking. Individuals achieving this Siemens certification are among an elite group of professionals in the U.S. who have an expanded Siemens knowledge base and the ability to successfully design solutions for very complex industrial applications. With this background, Calme will showcase reasons to convert from S5 to S7 technology while highlighting potential economic aspects and technical concerns. Attendees will leave the session with a more complete understanding of the immediate benefits of such an upgrade, as well as additional side benefits through future interface with other modern systems.
As a Siemens Solution Partner with almost half of a dozen Siemens Certified engineers, Patti Engineering is positioned to deliver exceptional service using the Siemens family of automation and process equipment. The company is looking forward to being among the top automotive and other relevant industry executives.
"I'm looking forward to this presentation because the caliber of the attendees at the Manufacturing in America event is stellar. I plan to review the finer technical points of converting Siemens S5 legacy systems over to the current S7 platform, which the Patti Engineering team and I have done many times over," said Calme. "The session will also include a look at pitfalls to avoid during software conversion, hardware upgrade options and economic concerns."
To register for the Manufacturing in America Symposium, please click here: http://www.electro-matic.com/Company/Events/2014-Manufacturing-in-America
About Patti Engineering, Inc.
Patti Engineering, Inc. is a CSIA Certified control systems integration company offering high-caliber engineering and software development services. Patti Engineering's technical expertise in electrical control and information systems provides turnkey control systems integration for design/build, upgrade/retrofit and asset/energy management projects. Industrial automation, production intelligence and shop floor IT solutions services include: project management, electrical engineering, hardware design, hardware procurement, software development, installation, calibration, start-up testing, verification, documentation, training and warranty support. Customer satisfaction and project success earned the company placement in the Control Engineering Magazine's Hall of Fame. For more information, visit http://www.pattieng.com.