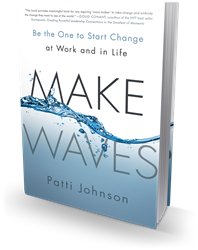 A wave requires stepping out and building commitment that grows organically.
Boston, MA (PRWEB) May 12, 2014
Bibliomotion, books + media is pleased to present Make Waves: Be the One to Start Change at Work and in Life by Patti Johnson, CEO and founder of PeopleResults. In the book, Patti shows that initiating change in our work and lives is the key to success and happiness. Her research provides tips and encouragement to help readers step up and instill "wave making" behaviors.
In an interview with Bibliomotion, Patti explains her influence and inspiration for the book:
What inspired you to write Make Waves?
PJ: Three thoughts came together for me. First, in business, most discussions about change were dominated by the project plan or the implementation plan. The human and individual impact on change was not only being downplayed, but often completely forgotten.
Second, the way we communicate and collaborate is wildly different than it was even five years ago. Social media, crowd sourcing, crowd funding and creative ways to share our assets have elevated the influence of individuals. So much can be accomplished without dependence upon one person in charge or a filter on information. You can see that this mindset will absolutely carry over into the workplace.
Lastly, a personal situation affected my thinking. My mother-in-law, Helen Johnson, passed away last year. As we told stories about her life, the way she thought and her actions had astounding ripple effects. She started so many waves by what seemed like small decisions initially. She always asked "What can I do?" And, she did it.
All of these thoughts started to merge in the same timeframe and I developed a point of view I wanted to share.
What was your favorite part of the writing and publishing process?
PJ: My favorite part was interviewing the Wave Makers who were nominated by friends and trusted colleagues, in addition to my own list. It was fascinating to talk through their waves and learn about their thoughts and actions that started momentum. Interestingly, the group I interviewed was an eclectic mix of individuals – CEOs, entrepreneurs, students, community service leaders, recent graduates and a Major League Baseball manager. I was inspired by them and reminded that just when you think you have it all figured out – you don't!
I also enjoyed the creative process of writing. It was hard at times, yet it stretched me in new ways and I learned so much about change that I never understood in spite of my experience in business. It was really fun at this point in my career to be in total learning mode and be dropped into the world of publishing which I knew almost nothing about.
Who do you hope reads your book? What do you want them to get from it?
PJ: I hope that anyone who has an idea or change they want to see in their organization, community, or market will read it. I think this book has practical actions with a dose of inspiration. I spoke at a conference last week and some of the attendees came up afterward and told me that the message in the book had given them the encouragement to get started on their wave. That is as good as it gets.
Who was your #1 influencer for your work?
PJ: I had several influencers – some I spoke with and others whose work influenced me. Brene Brown influenced me because I love her straight talk and how she makes research feel real and personal. Kristi Erickson, a friend and business colleague, was a wonderful sounding board and encourager as I was writing. I also received wonderful wisdom from other authors in the business arena but with an eye on the individual, such as Whitney Johnson, Allison Rimm and Alexandra Levit.
What are you reading right now?
PJ: I have a stack of books on my nightstand until I have more time to read! Right now, I am reading Flash Boys by Michael Lewis, and have plans to next read Capital in the Twenty-First Century by Thomas Piketty. Both are fascinating reads on the stock market and I realize now how little I know about how it really works today. I have many more on my list once my book is officially launched and I have some cushion in my schedule.
About Make Waves:
Why is it so hard for us to start big or small changes in our teams, organizations or community?
Our thoughts get in our way and we rely on the same steps that work for other situations. But a true change, a wave, is different, says Patti Johnson, CEO of PeopleResults and former Accenture Senior Executive. A wave requires stepping out and building commitment that grows organically.
In Make Waves: Be the One to Start Change at Work and in Life, Patti Johnson shares how anyone can start or contribute to a wave by diving into topics such as:
-Relying on "What can I do?" in any situation
-Why having all of the answers can work against you
-Why you need Idea Partners
-How to get started – without a perfect plan
-The impact of true experimentation
-How to build a community around your wave
-Trends in the workplace and our culture that are transforming how change happens
-Why organizations committed to growth, innovation and personal accountability need more Wave Makers and how to develop them
Patti Johnson researched and interviewed an eclectic mix of Wave Makers, from leaders in business and the community, to entrepreneurs and new professionals, to explore the decisions and actions of individuals who started a change.
What's your wave?
About Patti Johnson:
Patti Johnson is a career and workplace expert and the CEO of PeopleResults, a change and organizational development consulting firm she founded in 2004. She is the author of Make Waves: Be the One to Start Change at Work and in Life (May 2014). She and her team advise clients such as PepsiCo, Microsoft, 7-Eleven, Accenture, Frito-Lay and many others on creating positive change in their leaders and organizations.
Previously, Johnson was a senior executive at Accenture where she played an essential role in creating new change service offerings, global talent programs, and providing expertise on complex changes with numerous clients. She has been featured as an expert in media such as The Wall Street Journal, The New York Times, MONEY Magazine, U.S. News and World Report, Fast Company, Entrepreneur, Working Mother and a regular contributor to SUCCESS Magazine. She is an instructor on change for SMU Executive Education and for the Bush Institute Women's Initiative, as well as a keynote speaker on change and leadership.
About Bibliomotion, books + media:
Bibliomotion is a book publishing house designed for the new publishing landscape. While many publishers work to retrofit old processes for new realities, Bibliomotion was founded by book-industry veterans who believe the best approach is a fresh one – one that focuses on empowering authors and serving readers above all else. Moving away from the top-down model that has dominated the publishing process for years, we give each member of the team – including the author – a seat at the table from the very beginning and in doing so, work side-by-side to launch and sell the best content possible, making it available in a variety of forms.