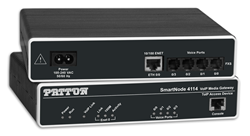 Buffalo, NY (PRWEB) September 17, 2015
VoIP Supply, North America's leading provider of VoIP solutions, is announcing its strengthened relationship with Patton, a leading manufacturer of network access and connectivity products.
Patton specializes in interconnecting legacy TDM phone systems that rely on copper wires with new IP-based voice, data, and multimedia technologies.
The line of Patton SmartNode VoIP Gateways, Routers, SIP SBCs, PBXs, and Unified Communications appliances continues to grow.
VoIP Supply's solution consultants are trained to help small to medium sized businesses and enterprise applications take advantage of these business communication devices that offer:

Made in the USA reliability
Industry leading free technical support and configuration help
Free upgrades
Integration with 3CX phone system platforms
Microsoft Lync optimization
Patton SmartNode devices also provide auto provisioning, interoperability with leading softswitches and PBXs, and support for multiple VoIP standards including H.323, MGCP, and the growing adoption of SIP protocols.
SmartNode devices are admired for their reliability and stability; having stood the test of time in network deployments all around the world backed by an online library of technical knowledge and Patton's live email and phone support.
For more information about Patton SmartNode solutions available at VoIP Supply, call 800-398-VoIP or visit http://www.voipsupply.com/voip-gateway-guide to read the Patton VoIP Gateway Guide that explains the underlying technology, gateway types, and key features and functions.
About VoIP Supply
We solve problems and create solutions with VoIP. VoIP Supply is a world class place to work with big goals, a clear vision, defined purpose and a dedicated team of passionate business professionals. We love what we do and do it better than any of our competition.
Since 2002, VoIP Supply has been the leading supplier of VoIP equipment and complete VoIP solutions in North America. We are known in the industry as responsive and knowledgeable VoIP product experts.
With everything you need for VoIP, VoIP Supply has grown rapidly throughout the years. VoIP Supply is a three-time Inc. 500/5000 honoree, listed by Business First as one of WNY's Most Admired Companies, as well as one of Western New York's Best Places to Work for many consecutive years. VoIP Supply is also the first Certified B Corporation in Western New York.