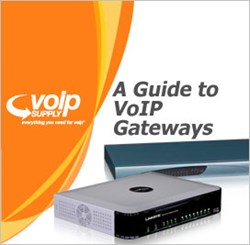 "With so many different communications networks and types of voice traffic in use, thankfully we have Patton Gateways that make it simple to connect to anyone in the world and this new guide will show you how they work," - Ben Sayers, VoIP Supply CEO
Buffalo, NY (PRWEB) December 06, 2013
The new Patton Electronics sponsored Guide to VoIP Gateways is now available for download from VoIP Supply, North America's leading supplier of VoIP equipment and solutions.
The VoIP Gateways Guide is part of the company's "Learn More" series of educational guides to VoIP equipment.
Patton is a U.S.-based leader in the production of products that provide simple access and connectivity to the growing global network of voice and data.
Patton continues to be a strong VoIP Supply partner with Patton VoIP Gateways that connect seamlessly with other popular VoIP solutions such as 3CX phone systems and Yealink phones.
"With so many different communications networks and types of voice traffic in use, thankfully we have Patton Gateways that make it simple to connect to anyone in the world and this new guide will show you how they work," said Ben Sayers, CEO of VoIP Supply.
Downloading this resource on Patton VoIP Gateways will help readers:

Define and demystify the underlying technology
Understand the different types and important features of VoIP gateways
Make the right purchase decision and avoid having to return equipment
For more information about Wireless VoIP, please call 800-398-8647 or visit http://www.voipsupply.com/voip-gateway-guide .
About VoIP Supply
We are a place of uncovering, cultivating and developing leaders. A world class place to work with big goals, a clear vision, defined purpose and a dedicated team of passionate business professionals. We love what we do and do it better than any of our competition.
Since 2002, VoIP Supply has been the leading supplier of VoIP equipment and complete VoIP solutions in North America. We are known in the industry as responsive and knowledgeable VoIP product experts.
With everything you need for VoIP, VoIP Supply has grown rapidly throughout the years. VoIP Supply is a three-time Inc. 500/5000 honoree, listed by Business First as one of WNY's Most Admired Companies, as well as one of Western New York's Best Places to Work for many consecutive years, including 2012. VoIP Supply is also the first Certified B Corporation in Western New York.