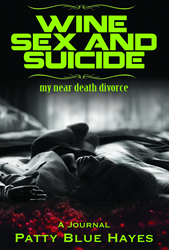 I found my purpose and passion to help others after going through my own heartbreaking divorce.
LOS ANGELES (PRWEB) April 27, 2015
According to a study-based article titled, "Suicide and Divorce" by Jason Kohlmeyer dated May 16, 2012, divorced people are three times more likely to commit suicide than their married peers. These statistics hit home for author and life coach Patty Blue Hayes after walking her own slippery slope of depression in the aftermath of a brutally painful divorce.
Hayes decided to journal about her emotional odyssey and share the experience with others in her latest book titled, "Wine, Sex and Suicide - My Near Death Divorce," which launches on Amazon.com in June, 2015.
Like many women, Hayes took her marriage vows seriously, right down to the promise, "'till death do we part." But when her husband confessed to cheating and moved out five days later, she felt broken and lost her sense of identity.
Hayes intended to write a book about healing her broken heart through a year of volunteer service projects that included spending Christmas at a Romanian orphanage, volunteering in the kitchen at Project Angel food in Los Angeles and tutoring homeless children in South Los Angeles; but nothing could help soften the pain of the rejection and abandonment she harbored.
"I'd heard divorce was like a death, but this was different," she says. "This was my death."
Her 15-month journal account paints a vivid picture of a woman in crisis, disconnected from her true self and lost in a dark abyss of binge drinking and sexual promiscuity to validate herself as a woman. One night, Hayes says her pain became too much to endure. She decided that she just wanted it to go away forever and tried to end her life.
The epiphany she needed to begin healing came in the soul-searching wake of her suicide attempt.
"How was I going to go from wearing paper pants in the psych ward to being the whole, balanced, evolved woman I wanted to become?"
As she began to move through, and eventually past the darkness and despair of her post divorce emotions, Hayes began moving toward hope. Taking lessons from her life coach training, she transformed her pain into her purpose. Today, she coaches women through her own signature program, "You Can Heal Your Heartbreak."
"I found my purpose and passion to help others after going through my own heartbreaking divorce," she says, "I don't want anyone to feel as alone in their pain as I did."
The book "Wine, Sex and Suicide - My Near Death Divorce," will be available to purchase in June, 2015 on Amazon. Updates can be found on Hayes' Facebook page. For more information, Email media(at)pattybluehayes(dot)com or call 805.242.6986.
About Patty Blue Hayes:
Patty Blue Hayes is an author, speaker and trained life coach certified in the personal development program "Infinite Possibilities." As happens to many women, she discovered the world as she knew it had crumbled in the wake of her husband's exit from the marriage.
After rediscovering her faith, Hayes set forth on a path of healing and self-discovery, sharing her story of pain-to-purpose with others to let them know they are not alone in their heartbreak. She shares the tools and techniques that helped her go from barely surviving to thriving. She coaches individuals and groups on getting through heartbreak and produces products like guided meditation recordings to help people through the grieving process.
Hayes also authored the book, "My Heart Is Broken. Now What? 12 Practices to Heal the Emotional Pain of Being Abandoned by the One You Love." She lives on the Central Coast of California with a happy heart and a peaceful soul.
###