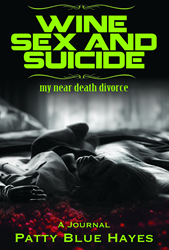 How was I going to go from wearing paper pants in a psych ward to being the whole, balanced, evolved woman I wanted to become?
Los Angeles, CA (PRWEB) July 15, 2015
Author Patty Blue Hayes has announced the release of her latest book, "Wine, Sex and Suicide - My Near Death Divorce," on Amazon. Hayes's second book delves into the emotional pain of her divorce, chronicling the author's journey through the depths of despair and eventual emergence of hope in the aftermath of her devastating heartbreak.
Since hitting the shelves in June, early reviews have been positive. Relationship expert Charles J. Orlando called Hayes's book "An amazing married-but-headed-through-the-swirling-maelstrom-of-divorce version of 'Eat, Pray, Love.'"
Hayes kept a journal during the 15-month emotional odyssey that began when her husband and partner of 17 years confessed to being unfaithful to Hayes before walking out on the marriage five days later. "Wine, Sex and Suicide" details the self-destructive path of a woman in crisis, disconnected and adrift in a dark cycle of binge drinking and sexual promiscuity in a reckless attempt to validate herself as a woman.
Hayes set out to heal her broken heart with a year of volunteer service projects that included spending Christmas at a Romanian orphanage, volunteering in the kitchen at Project Angel food in Los Angeles and tutoring homeless children in South Los Angeles; but nothing could distract her from the rejection and abandonment she felt.
One night, when her pain had become unendurable, Hayes tried to end her life.
A recent study by the National Institute for Healthcare Research in Rockville, Maryland, finds that divorced people are three times more likely to commit suicide than their married peers. When the author's own attempt to end her life failed, Hayes turned a corner: "How was I going to go from wearing paper pants in a psych ward to being the whole, balanced, evolved woman I wanted to become?"
As she began moving through, and eventually past the pain and darkness of her post-divorce emotions, Hayes became hopeful again. It was then she enrolled in personal development courses and life coach training and has transformed her pain into her purpose, helping women through their own journey of healing and self-discovery.
"Wine, Sex and Suicide - My Near Death Divorce," is now available as a Kindle download, and in paperback for $15.00 on the Amazon.com website. For more information, visit the Patty Blue Hayes website, email media(at)pattybluehayes(dot)com or call 805.242.6986.
About Patty Blue Hayes:
Patty Blue Hayes is an author and trained life coach certified in the personal development program "Infinite Possibilities." As happens to many women, the world as she knew it had crumbled in the wake of her husband's exit from the marriage and the journey back to normal was long and agonizing.
Hayes set forth on a path of healing and self-discovery, sharing her story of pain-to-purpose with others to let them know they are not alone in their suffering. She shares the techniques that helped her through the most difficult times in her other book, "My Heart Is Broken. Now What? 12 Practices to Heal the Emotional Pain of Being Abandoned by the One You Love."
She's an expert contributor to the relationship website "Your Tango," and her articles are syndicated on the Huffington Post and Yahoo.com.
She lives on the Central Coast of California with a happy heart and a peaceful soul.