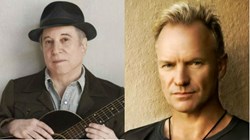 Paul Simon & Sting tour tickets hit the public market tomorrow, but many fans who have their hearts set on attending a show are turning to the secondary market to secure their seats today.
Germantown, Wisconsin (PRWEB) November 11, 2013
Paul Simon tour tickets are affordably priced at QueenBeeTickets.com for concerts coming up next year that will feature another phenomenal entertainer as well. Sting tour tickets are also in the inventory, and concertgoers are excited to see both stars together in a series of fantastic events dubbed "On Stage Together."
It was recently announced that both singers will be appearing on stage to perform music in separate sets and also as a duo. Concert enthusiasts are eager to obtain Paul Simon tour tickets as well as Sting tour tickets for 2014 live events beginning on February 8 and continuing until March 16. A number of U.S. shows are planned, and the entertainers will also appear in Vancouver, Montreal, and Toronto.
Some of the U.S. cities on the tour schedule include Houston, Denver, Inglewood, Seattle, St. Paul, Auburn Hills, New York, Philadelphia, Orlando, and Washington, D.C. There is a good possibility that additional shows may be announced in the near future. North American fans can obtain tickets for shows of their choice to enjoy two very talented and popular performers who will be appearing together.
It is an exciting time in music when multiple artists travel for the benefit of entertaining numerous fans. This time is quickly approaching with the recently announced tour beginning in mere months. Tickets are certain to sell in record time for all concerts that are scheduled to take place as well as any new events that may come along. Music enthusiasts will want to obtain their tickets as soon as feasible in order to have a good selection from which to choose.
QueenBeeTickets.com has the largest inventory available on the Web, and customers can easily find both Paul Simon tour tickets and Sting tour tickets for all upcoming live events. Transactions can be placed easily and securely either directly through the website or by phone. All tickets carry a 100 percent satisfaction guarantee and will arrive in time for the designated show. Even last minute orders can be accommodated.
Paul Simon & Sting On Stage Together in 2014:
02/08—Toyota Center—Houston, Texas
02/09—American Airlines Center—Dallas, Texas
02/11—Pepsi Center—Denver, Colorado
02/15—Forum—Los Angeles, California
02/17—SAP Center At San Jose—San Jose, California
02/19—Key Arena—Seattle, Washington
02/20—Rogers Arena—Vancouver, British Columbia
02/23—Xcel Energy Center—St. Paul, Minnesota
02/25—United Center—Chicago, Illinois
02/26—The Palace Of Auburn Hills—Detroit, Michigan
02/28—Bell Centre—Montreal, Quebec
03/01—Air Canada Centre—Toronto, Ontario
03/04—Madison Square Garden—New York, New York
03/07—Wells Fargo Center—Philadelphia, Pennsylvania
03/09—Giant Center—Hershey, Pennsylvania
03/13—Verizon Center—Washington, D.C.
03/15—BB&T Center—Ft. Lauderdale, Florida
03/16—Amway Center—Orlando, Florida