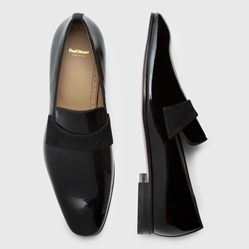 Paulette Garafalo, CEO says, "At Paul Stuart, we are focused on providing stylish clothing and footwear choices for the whole man – for every aspect of his life. These new styles offer the ultimate in comfort, wearability, and style."
NEW YORK (PRWEB) September 17, 2019
The men's collection of new footwear styles is now available at Paul Stuart. For over 80 years, the company has been known around the world for its exceptional tailoring and luxurious materials. Now, that same obsession with fine fit and exceptional craftsmanship is also available to men in their footwear choices.
This is the third collection by Javier Suarez, the Creative Director for footwear at Paul Stuart. Suarez comes to the company from senior positions at international luxury brands such as Bally of Switzerland and Salvatore Ferragamo and brings a wealth of experience and a sophisticated taste level to these new silhouettes.
Suarez says, "The Fall 2019 collection is inspired by imagining the ideal shoe wardrobe for the season. Styling and function come together from the city to the countryside in redesigned and restructured wardrobe classics. Silhouettes and shapes become functional by style. The use of ultra-lightweight rubber soles gives sporty functional footwear a featherweight like comfort. Boots are standouts, as this silhouette becomes the go-to modern item for the fall and winter season. They complete both tailored and casual looks with their perfect balance of fashion and comfort."
New boot styles include the Levi signature boot with multi-colored ribbon detail. In burnished leather, these are made in Italy and look great with both trousers and a favorite pair of jeans. With upcoming holiday parties on the calendar, Suarez offers the Heron slip on. Made in Italy, it's featured here in black patent. It is available at Neiman Marcus stores and retails for $595.
Paulette Garafalo, CEO of Paul Stuart says, "At Paul Stuart, we are focused on providing stylish clothing and footwear choices for the whole man – for every aspect of his life. With our new footwear collection, we've done just that. We offer a full array of choices from elegant evening wear to casual sneakers for every occasion in his busy day. The Fall 2019 collection features the latest style trends in material and silhouette while remaining true to classical design and manufacturing. These new styles offer the ultimate in comfort, wearability, and style."
Prices range from $450 for the Game calf leather slip-on sneaker to $895 for the Galante double monk strap shoe. The new styles will retail at select Neiman Marcus, Saks Fifth Avenue, Bergdorf Goodman, and Paul Stuart stores.
About Paul Stuart:
Headquartered in New York City, Paul Stuart, Inc., was founded by Ralph Ostrove and named for his son Paul Stuart Ostrove, has remained in its original location since opening in 1938. The company designs exclusive collections of men's and women's tailored clothing, sportswear, and accessories.
Additional stores are located in Chicago on East Oak Street and LaSalle Street, and a third boutique in Washington, D.C.'s City Center shopping district. The company operates additional stores in more than 50 locations throughout Japan. Paul Stuart is privately held by Mitsui & Co., LTD company of Japan.