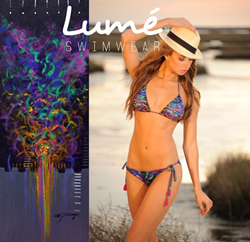 Lumé Swimwear: fashion, art and giving back
Houston, TX (PRWEB) April 11, 2015
Born in Colombia and raised in the US, Paula Daza-Chenu has always dreamt of a way to give back to her beautiful native country.
She has finally found that way.
By staying true to what she calls "fashion with a conscience," she has developed Lumé Swimwear, a new line of swimwear and beachwear that combines her three passions – fashion, art and giving back – with social and environmental responsibility.
"These bathing suits are wearable art, the paintings of these world renowned artists have become the prints," she says. "They are the most luxurious, colorful and unique pieces you can wear."
The designs are conceived at Daza-Chenu's studio but the actual production of the garments takes place in Colombia, thus providing jobs for her native countrymen.
"We firmly believe in fair trade, paying a fair price for the goods we manufacture so that these communities can support their families," she says. "We also believe in donating a percentage of all proceeds to Amigos Near, a foundation that helps underprivileged, orphaned and sick children in Colombia. We're helping these communities grow one family at a time."
In addition, Lumé works with factories in Colombia that are environmentally friendly. No water is used during the printing process, eliminating any chance of contaminating water sources, and the packaging is made of recycled plastic materials.
In order to take Lumé Swimwear to the next level as a global company, Daza-Chenu estimates she'll need $50,000 to transition from a direct-to-consumer sales model to an international platform.
In order to generate this capital, she has launched a Kickstarter campaign, which can be viewed at http://www.kickstarter.com/projects/551044918/lume-swimwear-fashion-meets-art. The page includes a video describing the project and many photos of the artists' work and exquisite finished pieces.
Donations of any amount are welcome. "By supporting this project, you can obtain beautiful and unique swimwear and accessories, and also help us make a difference in world," Daza-Chenu says.
"We want to get this business started in Colombia so we can create some jobs and help families in need. Colombia has had a very difficult past and is growing by leaps and bounds every day, and we hope to be part of this change."
For additional information, visit http://www.kickstarter.com/projects/551044918/lume-swimwear-fashion-meets-art; the Lumé Swimwear website, http://www.lumeswimwear.com; or the Lumé Swimwear Facebook page, m.facebook.com/profile.php?id=430995417066243.
Daza-Chenu can be reached directly at info(at)lumeswimwear(dot)com.