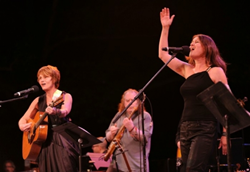 That song is incredibly beautiful and speaks of the precious time we have with one another.
Bangor, Maine (PRWEB) April 17, 2015
Husson University welcomes Grammy Award winning singer/songwriter Paula Cole to the Grace Theatre on Friday, April 24, 2015. Poetic and fiercely touching, Cole's unique music reveals her personal perspectives on love and life. The evening will include famous hits, plus songs from her upcoming new album, Raven. The concert is sponsored by The Bangor Daily News, and season sponsor Bangor Savings Bank.
Paula Cole wrote "I Don't Want to Wait," for her grandfather and it became one of her most famous hits. "That song is incredibly beautiful and speaks of the precious time we have with one another," says Jeri Misler, managing director for the Gracie Theatre. "It became the theme song for the TV show Dawson's Creek, so I know there will be people who will sing along when she performs it."
The song is one of just 32 songs in the history of the "Billboard Hot 100" to have had a chart run longer than 50 weeks. In addition, VH1 ranked it as one of the "100 Greatest Songs of the '90s."
Cole won a Grammy for "Where Have All the Cowboys Gone?" A seven-time Grammy nominee, she has released six solo albums over the course of her 20-year career and has sold approximately three million albums. Peter Gabriel and Dolly Parton are just some of the music industry icons that have performed with Cole. In addition, her compositions have been covered by a variety of artists including Herbie Hancock, Annie Lennox and Katherine McPhee.
Raised in Rockport, Massachusetts, Cole is a native of New England. Her mother was an elementary school art teacher, while her father was a professor of biology and ecology at Salem State College. He was also a polka musician. She is a graduate of the Berklee College of Music where she studied jazz singing and improvisation. Even though Cole received her first record deal with a jazz label, she declined the offer, and instead went on to pursue a career as a popular female vocalist.
Cole teaches and gives clinics. It is her way of giving back to the art form that has given her so much. As the first woman in history to solely produce and receive a Best Producer Grammy nomination for her work, "This Fire", Cole has broken boundaries.
From her top ten hits of the 1990's to her more recent critically acclaimed albums, Cole continues to write, produce, record and perform heartfelt, meaningful, lasting music.
Tickets for the upcoming show at the Gracie Theatre are $25-35.00 at the box office or online at Ticketmaster.com. Single show tickets are also available at http://www.gracietheatre.com, http://www.ticketmaster.com, Facebook, or by calling 941-7888. Ticketing fees may apply.
Completed in October of 2009, The Gracie Theatre is Husson University's center for the fine and performing arts. This beautiful 500-seat theatre is quickly earning a reputation as one of Maine's premier performance venues. In addition, The Gracie also serves as a learning platform for students from the New England School of Communications at Husson University in digital audio, sound mixing, set design and construction, lighting, acting and electronics. For more information, visit GracieTheatre.com.
For more than 100 years, Husson University has prepared future leaders to handle the challenges of tomorrow through innovative undergraduate and graduate degrees. With a commitment to delivering affordable classroom, online and experiential learning opportunities, Husson University has come to represent superior value in higher education. Our Bangor campus and off-campus satellite education centers in Southern Maine, Wells and Northern Maine provide advanced knowledge in business; health and education; pharmacy studies; science and humanities; as well as communication. In addition, Husson University has a robust adult learning program. For more information about educational opportunities that can lead to personal and professional success, visit Husson.edu.