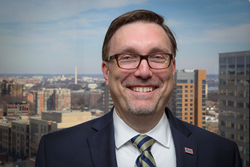 I am thrilled, honored, and moved to do what I can to support the American military family in this way.
Arlington, VA (PRWEB) March 24, 2015
The USO (United Service Organizations) has named Paul G. Allvin the new Senior Vice President of Marketing and Communications. Allvin will lead all aspects of the USO Marketing and Communications Department, including strategic and entertainment marketing, brand and creative services, web and digital marketing, special events, story development, publications and public relations. He joins the USO's senior leadership team March 2015.
A nonprofit, congressionally chartered, private organization, the USO relies on the generosity of individuals, organizations and corporations to support its activities.
"Paul Allvin's strong marketing and communications expertise and track record as a successful executive are ideally suited to position the USO for achievement as we approach our 75th anniversary," said J.D. Crouch II, CEO and President of the USO. "Not only does Paul bring his ample skills to the senior leadership team, he also has a special connection to the mission as part of an Air Force family."
"USO is a national icon that represents the very best of America's commitment to those among us who step forward in our defense, at great sacrifice to their own lives and personal safety," Allvin said. "I am thrilled, honored, and moved to do what I can to support the American military family in this way."
Prior to the USO, Allvin worked at America's Promise Alliance as their first-ever Chief Communications and Knowledge Officer. In this role, Allvin oversaw all internal and external communications for America's Promise, including publications, publicity and strategic message development, along with the organization's research portfolio at the Center for Promise. He also served as lead strategist for all awareness efforts around the GradNation Campaign led by America's Promise.
Earlier in his career, Allvin served in a variety of executive communications roles at Make-A-Wish America, where he first joined the organization in 1996. Most recently, he was the organization's Vice President of Brand Advancement, where he was responsible for the development and execution of all brand initiatives for the 35-year-old, top-10 charity. During his tenure, Allvin led the organization's global rebrand and directed communications strategy for its 62-chapter network in the United States and 36-nation network of international affiliates.
Allvin's career also includes roles in government and academia. He served as speech writer and communications director to former Arizona Governor Janet Napolitano from 2002 to 2004, for Napolitano's first years in office. Following that, Allvin spent six years at his alma mater, the University of Arizona, as Associate Vice President for Communications, where he lead the school's Office of University Communications. Allvin left this role in 2010 to return to Make-A-Wish America.
A native of Arizona, Allvin holds a Bachelor of Science in journalism from the University of Arizona. Allvin and his wife, Rhian, live in Falls Church, VA and have three children, Austin, Eli and Isabel.
###
About the USO
The USO lifts the spirits of America's troops and their families millions of times each year at hundreds of places worldwide. We provide a touch of home through centers at airports and military bases in the U.S. and abroad, top quality entertainment and innovative programs and services. We also provide critical support to those who need us most, including forward-deployed troops, military families, wounded warriors, troops in transition and families of the fallen. The USO is a private, non-profit organization, not a government agency. Our programs and services are made possible by the American people, support of our corporate partners and the dedication of our volunteers and staff.
In addition to individual donors and corporate sponsors, the USO is supported by President's Circle Partners: American Airlines, AT&T, BNSF Railway, Clark Construction Group, LLC, The Coca-Cola Company, JCPenney, Jeep, Johnson& Johnson, Kroger, Northrop Grumman Corporation and TriWest Healthcare Alliance and Worldwide Strategic Partners: BAE Systems, BIC, The Boeing Company, ConAgra Foods, FedEx, GEICO, Harris Teeter, Lockheed Martin, Microsoft Corporation, Procter & Gamble, TKS Telepost Kabel-Service Kaiserslautern GmbH & Co. KG and Wawa Inc. We are also supported through the United Way and Combined Federal Campaign (CFC-11381). To join us in this important mission, and to learn more about the USO, please visit uso.org.