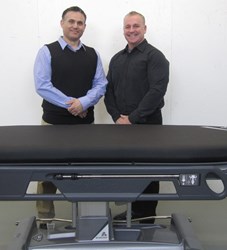 Both share the belief of building long lasting relationships of trust, flexibility and mutual advantage, as does Meditek," states Meditek President and CEO, Mark Samuels.
Winnipeg, Manitoba (PRWEB) January 31, 2014
"Having built a solid foundation and reputation for servicing the Canadian healthcare industry over the last thirty years, we are ready for the new energy and passion that both Brad and Paul will bring to Meditek. Both share the belief of building long lasting relationships of trust, flexibility and mutual advantage, as does Meditek," states Meditek President, Mark Samuels.
Paul Kahale, the new Territory Sales Manager for Ontario, has a strong background in marketing, having held the post of Manager of Sales and Marketing Administration for eight years. He brings with him to Meditek a wealth of technical experience in supply chain management and material management.
Paul takes a hands-on approach to the relationships he is so passionate about building. Over the years, Paul has developed a superior level of product knowledge in order to best understand both the facility and end-users' needs, through the planning and assisting in continued clinical education to increase customer understanding.
Throughout the last four years, Paul had been the Territory Sales Manager with over sixty hospitals under his care. During that time, Paul achieved and succeeded in hitting his sales targets by a significant amount.
Some of Paul's achievements include:

Exceeding product targets by 17% for Surgical Lights, Operating Tables, Columns and Pendants.
Increased overall territory revenue by 14% through equipment standardization in key accounts.
Closed over 2 million in new business of infant care capital sales in 2011/12 and over 3 million in new business of surgical capital sales in 2009/10.
Brad Bru, the new Territory Sales Manager for British Columbia, draws on an extensive sales background that includes a multiplex of specialties and recognition for outstanding sales achievements with several distinctions and awards. Brad brings to Meditek a hard work ethic and drive to be the best.
Brad has achieved awards and recognition for the following:

Sales awards for market growth in infectious disease market.
Received numerous quota achievement awards.
Created the 24-Hour Ambulatory Blood Pressure Monitor Equipment Program.
Received top Sales Award "Acclaim" for an innovative program that was put together with British Columbia Medical Association in 2006. This program was implemented throughout BC.
In Brad's past employment, he focused on all of the stakeholders that used his products, encompassing an "all aboard" mentality that played a major role in his success.
About Meditek:
Meditek, centrally located in Winnipeg, Manitoba, provides the Canadian healthcare industry with medical products such as surgical tables, surgical lights and transport stretchers; as well as services such as remanufacturing and preventative maintenance. More information about Meditek can be found here.