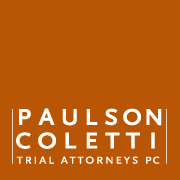 Portland, OR (PRWEB) January 29, 2014
The Oregon Women Lawyers (OWLS) Leadership Committee is hosting the Roberts-Deiz Awards Dinner on Friday, March 14, 2014 from 5:00pm to 9:00pm at the Nines Hotel Ballroom in Portland, Oregon. Paulson Coletti Trial Attorneys PC is the title sponsor of the upcoming OWLS award dinner.
OWLS is a respected non-profit organization whose mission is to support women and minorities within the legal profession through mentorships. Since it was founded in the late 1980's OWLS' has grown to 1400 members.
The 2014 Roberts-Deiz Awards Dinner will be honoring two notable award recipients: Judge Elizabeth Perris, United States Bankruptcy Court, 22nd recipient of the Justice Betty Roberts Award and Lissa Kaufman, Director of Student Legal Services, Portland State University, 22nd recipient of the Judge Mercedes Deiz Award.
Jane Paulson of Paulson Trial Attorneys PC, a Portland based personal injury law firm representing individuals and families in Oregon and Washington, is an active OWLS member. Paulson supports OWLS mission and praises the organization for "providing networking opportunities for young lawyers to discuss business strategies with successful law professionals."
The dinner is open to all lawyers. For more event information visit the OWLS website.
About Paulson Coletti Trial Attorneys PC:
Paulson Coletti Trial Attorneys PC is a noted Oregon personal injury law firm serving individuals harmed by the negligence or legal fault of others in Oregon and Washington. The attorneys, Charles Paulson, Jane Paulson and John Coletti specialize in serious catastrophic injury cases, and have won multiple million-dollar verdicts in Oregon and Washington. The firm has extensive Oregon community involvement and is a silver sponsor for the Center for Women, Politics & Policy. Learn more about Paulson Coletti Trial Attorneys PC at http://www.PaulsonColetti.com.