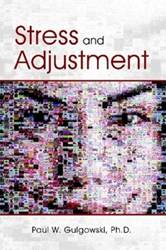 Delafield, Wis. (PRWEB) April 11, 2014
Stress can affect virtually every area of a person's life, from mental wellbeing to physical health. Author Paul W. Gulgowski offers techniques to help readers modify psychological and cognitive responses to stress to lessen its toll on the body and mind in his new self-help book, "Stress and Adjustment" (published by Lulu).
"The stress of dealing with everyday difficulties negatively affects body and mind," Gulgowski says. "'Stress and Adjustment' helps to alleviate psychological and physical pain."
Written in straightforward, accessible language, "Stress and Adjustment" offers a wealth of advice for dealing with stress. According to Gulgowski, his techniques can help readers avoid physical illness, cope with environmental factors that can increase stress and learn how to accept and react to uncontrollable events.
"Whether you've just lost a job, gotten divorced, or are dealing with the troubles of everyday life, the stress that results can take a toll on your mind and body," Gulgowski says. "We cannot always control our environment, but we can take steps to cope with the inevitable stresses of life."
"Stress and Adjustment"
By Paul W. Gulgowski, PhD
Softcover | 6 x 9 in | 80 pages | ISBN 9781483409221
E-Book | ISBN 9781483409214
About the Author
Paul W. Gulgowski was educated at universities in Germany and the United States, as well as the highest echelon of the U.S. Armed Forces. He has commanded a U.S. military drug and alcohol rehabilitation center in addition to teaching at the U.S. Military Academy, the University of Wisconsin, Concordia University and Lakeland College. He currently lives in Wisconsin. He is also the author of "The American Military Government of United States Occupied Zones of Post World War II Germany."
Lulu empowers people of all ages to explore and express their interests, passions and expertise through books, photography and art. Since introducing self-publishing in 2002, Lulu has empowered creators in more than 225 countries and territories to produce nearly two million publications. Lulu Jr. allows children to become published authors, encouraging creativity, strengthening literacy and building self-esteem. Picture.com offers professional photography of collegiate and professional sports, memorable and historic events, fine art and home décor. For more information, please visit lulu.com.