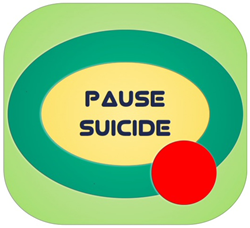 someone in America was taking their own life every 13 minutes
San Francisco, California (PRWEB) August 25, 2014
After surviving his own suicide attempt 40 years ago, John Hesnan, the founder of "Pause Suicide - Don't Kill Yourself Today" says, "the impact of solar, lunar and supermoon activity can play havoc with a person's state of mind. Our psychological and scientific researchers have done a huge amount of research in this area. This was no ordinary supermoon as it was in fact the nearest and biggest encounter that the planet will have with the moon for all of 2014."
Four decades ago when he was 20 years old Mr. Hesnan was dragged off of a bridge by a complete stranger at 3 o'clock in the morning after he had decided to take his own life by jumping into a deep fast flowing river in Ireland. He said, "I was saved from certain death and in time I had to turn my life around for the better."
John Hesnan is now a multiple national award winning patents granted inventor and entrepreneur from the West of Ireland with vast experience working internationally and he still collaborates closely with numerous government agencies to this day.
He says, "Pause Suicide - Don't Kill Yourself Today will be a new platform utilizing psychology in a powerful way for the first time online through mediated technology highlighting vulnerability for intervention, particularly on known vulnerable days that people experience. It is much easer to click onto a website anonymously, especially when you may be going from social media sites to a platform that will instantly help you to see tomorrow. Booking therapy or talking to someone is a huge step but clicking on a computer or mobile device is really easy. Once you have completed the online psychological profile you should start to see the gaps in your life for yourself. This will be a major breakthrough and the anonymous nature of the site opens this up to areas of the world where there are massive social stigmas and legal issues regarding suicide. There is a long list of countries where it is illegal to attempt or commit suicide."
John added that, "the aim is to create an anonymous platform where people feel safe to interact and it will provide them with a link back to the world in an anonymous, non-judgmental fashion. Our ultimate goal is to save lives with the help of our crowdfunding campaign."
Suicide research reveals that while more women attempt suicide, men have a 400% higher risk of dying because they tend to choose more drastic steps or deadlier means in their final moments of panic, despair and desperation.
The latest shocking statistics relating to the United States reveal that suicide was the 10th biggest cause of death in 2011. Mr. Hesnan said, "to put this in crystal clear perspective, someone in America was taking their own life every 13 minutes. That is an unsustainable level of tragedy and I feel compelled to do something about it. This campaign is all about having a suicide pause button. When you can stop someone killing themselves today perhaps they will stay alive beyond tomorrow."
John Hesnan's years of technical experience in project management for an American technology corporation and computer maintenance training engineering roles for a royal naval force mean his technical abilities can come to the fore with the online platform and app relating to "Pause Suicide - Don't Kill Yourself Today." The crowdfunding campaign can be seen at http://igg.me/at/pausesuicide