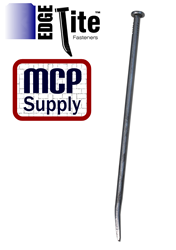 Lewisberry, PA (PRWEB) September 25, 2013
When it comes to any type of construction industry, not to many individuals let alone professionals would ever believe that a bent spike would serve as a tremendous enhancement to the overall strength of any Paver and Brick Hardscape Project. The product featured in this press releases' video will not only demonstrate the practical use and installation of this 10" Paver Edging Spike, but the increased retention capability. How often do we come across a product that is so contrarian to an industry yet finds such broad acceptance? The concepts of "contrarian" and "acceptance" wouldn't normally be used in the same sentence. One of the most compelling questions begging to be asked is; what are the possibilities for a bent spike to become an industry standard? According to both Jeff Goodman the inventor and the leaders of MCP Supply, the answer is yes based on repeat business and feedback received by both DIY and professional installers. The only bend in their sales numbers has been upward.
To learn more about the bent spike, watch the video here, http://www.youtube.com/watch?v=KD3vG_sasg4, or visit http://www.edgetite.com.
Media Contact
Michael Pastal
717-440-1680
mpastal(at)mcpsupply(dot)com