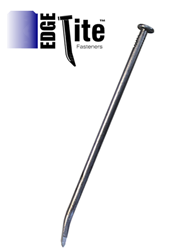 I have an advantage over any competitor.
Orland Park, IL (PRWEB) August 30, 2013
Lee Nalezny of K&L Services, Oswego Illinois says, "When I tell a customer I'm using EdgeTite for paver edging, I know I have an advantage over any competitor bidding for the job."
Dwayne Ulrichs of Lurvey Landscape Supply, Chicago Illinois says, "EdgeTite's really do work much better than a traditional spike and tighten up edging installations well."
Jerry Jaime of GMJ, Inc, Custer Kentucky says, "Now we can offer our customers a product that improves their installations and the brick paver industry. We're very excited about the EdgeTite Spikes."
Calvin Stolzfus, EWBN Landscaping & Additions, Leola, Pennsylvania says, "EdgeTite paver spikes work great! The spike makes it easy to ensure that the pavers are firm and tightly secured. I would suggest this product to anyone doing landscape projects."
EdgeTite paver edging spikes help solve the separation problem that can occur after installing paver edging spikes. They were created with firsthand experience when Jeff Goodman, a brick paving installer, encountered this problem during an installation. EdgeTite paver spikes are unique because of their angled tip, which deflects away from the installation as it is hammered into the base. As the head of the spike is tilted, this tightens the edge against the brick, keeping it sturdy and attached. The angled installation strengthens the entire system.
A video showing how the fasteners work can be viewed at http://www.edgetite.com/videos. For more information about paver edging spikes, visit http://www.edgetite.com.
Media Contact
Jeff Goodman
jgoodman(at)edgetite(dot)com