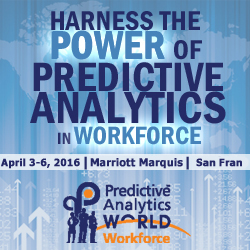 "Conferences such as PAW Workforce are an important part of validating that your current analytics model is producing real, actionable insights – not just visualizations of data." ~Lisa Disselkamp, director, Deloitte Consulting LLP, human capital practice
Santa Barbara, CA (PRWEB) November 18, 2015
At the Predictive Analytics World for Workforce conference (PAW Workforce), the most innovative predictive workforce practitioners, business leaders and vendors from around the world will gather to learn, share and discuss the many ways predictive analytics can be used to solve workforce challenges.
"I am thrilled with the level of sophistication of this year's case studies and technical presentations. Far from being an academic discussion, Predictive Analytics World for Workforce 2016 conference provides practical examples of how this approach can be used to optimize workforce decisions," says Greta Roberts, Chair of PAW Workforce and CEO & Co-founder of Talent Analytics, Corp.
Taking place April 3-6, 2016 at the Marriott Marquis in San Francisco, the second annual Predictive Analytics World (PAW) for Workforce event will educate hundreds of leaders on how to optimize their workforce using sophisticated data science.
"Predictive Analytics World for Workforce is the premier, vendor-agnostic conference in a space crowded with vendors and short on places for practitioners to come together to solve the real problems and challenges of implementing workforce and people analytics. It is an honor to participate in this ongoing conversation on how to change the face of business and the nature of work through advanced analytics and data science," says Burke Powers, Sr. Director, People Analytics, PayPal.
This year's program features keynotes from Wells Fargo, Paypal and Talent Analytics, Corp. along with over 25 presentations covering a diverse range of workforce challenges addressed through predictive analytics. Sessions will cover exciting topics such as predictive career pathing, predictive career advisor tools, shifting the curve of sales performance, the latest predictive applications in wearable technologies, and predicting employee performance.
"Predictive workforce analytics has the potential to transform how HR supports business strategies. There is great value in bringing together leading thinkers and practitioners – to share ideas, lessons learned, and to demonstrate what's possible with workforce data science," says PAW Workforce keynote speaker, Cigdem Gencer, EVP Head of International Human Resources, Wells Fargo & Co.
With case studies that emphasize business ROI and outcomes, conference attendees will walk away with both a greater appreciation of what's possible and opportunities where workforce data science can be immediately applied in their own organization.
"Conferences such as PAW Workforce are an important part of validating that your current analytics model is producing real, actionable insights – not just visualizations of data," said Lisa Disselkamp, director, Deloitte Consulting LLP, human capital practice. "The case studies will offer practical, demonstrative information attendees may be able to apply to their own organizations. I'm excited about presenting to an audience of practicing data users who are ready for the details."
The list of confirmed 2016 PAW Workforce speakers to date come from: Wells Fargo, Paypal, Deloitte, Paychex, Baylor Scott & White Health, Equifax Workforce Solutions, F. Hoffman-LaRoche, Genentech, VMware, Constellation Research, Talent Analytics, Corp., Humanyze, Eleks, Cicero Group, Percolata and The Data Incubator.
Registration has now opened for PAW Workforce in San Francisco and attendees are encouraged to register by December 18, 2015 for the best conference discounts.
About Rising Media, Inc.
Rising Media is a global events producer excelling in Internet and technology-related conferences and exhibitions. Rising Media-produced events include Data Driven Business, the eMetrics Summit, Conversion Conference, Content Marketing Conference, Predictive Analytics World (PAW) for Business, PAW Workforce, PAW Healthcare, PAW Government, PAW Manufacturing, PAW Financial, Text Analytics World, Affiliate Management Days, Media Analytics Summit, Marketing Operations & Technology Summit, Building Business Capability, Social Media Economy Days, Web Effectiveness Conference, Inside 3D Printing Conference & Expo, Inside BitCoins, AllFacebook Marketing Conference, Digital Analytics Hub, Search Marketing Expo, SemTech, and Social Gaming Summit in the US, UK, France, Germany, Sweden, Finland, and Australia.
About Talent Analytics, Corp.
Talent Analytics, Corp. uses data science to solve employee performance and attrition for high volume roles including Call Centers, Insurance Agents, Sales Reps, Sales Engineers, Bank Tellers, and the like. Much of our work predicts top and bottom performers pre-hire. Our predictive scoring algorithms are beautifully and easily deployed into the employee sourcing, recruiting, hiring, and operations process via our award winning cloud platform, Advisor(™).