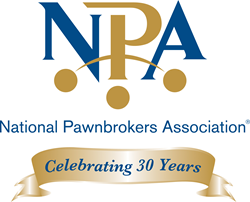 Mr. Tansky was recognized for his exemplary service to the pawn industry on the national, state, and local levels.
Keller, TXc (PRWEB) July 11, 2017
The National Pawnbrokers Association (NPA), the only national trade association representing independent pawnbrokers, announced the selection of Lou Tansky, president of Uncle Ben's Pawn Shop in Cleveland, OH, as the recipient of the NPA 2017 Pawnbroker of the Year Award.
Mr. Tansky was recognized for his exemplary service to the pawn industry on the national, state, and local levels. He served as the president of the Ohio Pawnbrokers Association for 14 years and continues to serve on its board. As a long-time member of the NPA, he has lent his time and energy to assist in nearly every facet of the association's activities, from government relations to the member forum.
Throughout his career, he has worked diligently to update Ohio's pawn statutes. In 2016, he played a pivotal role in uniting Ohio's independent pawnbrokers with a large corporate pawn store chain to bring about key legislation that benefited all pawnbrokers in the state. He helped to implement continuing education courses for pawnbrokers and has fostered relationships with the press and law enforcement agencies to present the industry in positive light.
The award was presented to Mr. Tansky during the NPA Annual Awards Ceremony on July 11, 2017, at Pawn Expo, the only national convention and trade show for the pawn industry, hosted at The Mirage Las Vegas.
The NPA Pawnbroker of the Year Award is presented annually to an NPA member who, through his or her performance, has demonstrated exceptional success in their business and local community and has made a significant contribution to the pawn industry during the previous year
For more information about the NPA, visit NationalPawnbrokers.org.
The NPA works to provide independent pawnbrokers nationwide with resources and tools to strengthen the pawn industry. NPA members are committed to operating their businesses in such a manner as to enhance and promote the positive and professional image of all pawnbrokers. Members believe in establishing positive and long-lasting relationships with local, state, and federal government officials. The NPA is the industry's only national association and is located in Keller, TX.