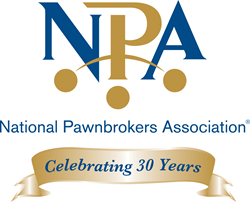 2016 proved to be a competitive year in retail, as many brick and mortar jewelry and consumer electronics businesses have been negatively affected by the growth in online sales.
Keller, TX (PRWEB) April 12, 2017
The National Pawnbrokers Association (NPA) announced today the results of the NPA 2016 Trend Survey. The survey, which was conducted in early 2017, focuses on industry trends as reported by pawnbroker members of the NPA for the 2016 calendar year. One notable survey result indicated that 47 percent of pawnbrokers cited a decrease in retail sales. "Pawnbrokers' core business is making collateral loans. However, we depend on retail sales to liquidate defaulted collateral," notes NPA president, Larry Nuckols. He continued, "2016 proved to be a competitive year in retail, as many brick and mortar jewelry and consumer electronics businesses have been negatively affected by the growth in online sales."
Analysis suggests that consumer behavior has shifted due to the proliferation of competitive online marketplaces, such as Amazon, Facebook Marketplace, and eBay. Additionally, fashion trends have steered buyers away from high-end jewelry and watches toward more affordable designer diffusion lines and mid-market items. As an example, the Jewelers Board of Trade has cited increases in jewelry store closings in 2016 at 66 percent above 2015 levels. This shrinking of the jewelry industry displays the dramatic change in the desire for, and value of, jewelry, a core retail product for pawnbrokers.
To further encumber pawnbrokers' retail woes, rapidly evolving consumer electronics technology has reduced the long-term value of pre-owned electronics, such as iPhones, video games, tablets, and computers. "Consumer electronics have always been a mainstay for pawn stores to buy, sell, and loan on," president Nuckols states, "but currently, these product lines are advancing and changing so quickly, they can lose their value within months, making potentially obsolete electronics risky for pawnbrokers to accept as collateral." Collateral loans, also known as pawn loans, remain the primary focus of pawnbrokers' businesses, with over 80 percent of pawnbrokers reporting that pawn loans are the most common transactions made. According to the survey, the national average pawn loan amount remained at $150.
Though the economy is doing well, more customers of pawn stores are struggling to repay loans. More than 40 percent of pawnbrokers surveyed stated they experienced an increase in defaults on pawn loans. This shift is significant, as the industry's national average for pawn loan redemption has historically remained consistent at 85 percent, year over year. "Americans continue to turn to pawn stores for non-recourse, collateral-based loans," said Nuckols. "While the pawn industry has grown more conservatively in recent years, increased public awareness, a positive image, and consumer-friendly stores attract new customers to pawn stores every day, and pawnbrokers have an optimistic outlook that all business will continue to increase in 2017. "
The NPA works to provide independent pawnbrokers nationwide with resources and tools to strengthen the pawn industry. NPA members are committed to operating their businesses in such a manner as to enhance and promote the positive and professional image of all pawnbrokers. Members believe in establishing positive and long-lasting relationships with local, state, and federal government officials. The NPA is the industry's only national association and is located in Keller, TX.
For more information about the NPA 2016 Trend Survey, contact NPA External
Communications, at: Media(at)NationalPawnbrokers(dot)org or 212-365-0691 x 5. For more information from the NPA, please visit http://www.NationalPawnbrokers.org.