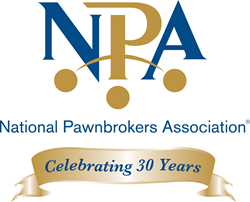 The CPP program is designed for experienced pawnbrokers to further their professional education and earn the designation "CPP."
Keller, TX (PRWEB) July 11, 2017
The National Pawnbrokers Association (NPA) announced today the recipients of the Certified Pawn Professional designation, "CPP," a recognized mark of distinction within the pawn industry. The CPP program is designed for experienced pawnbrokers to further their professional education and earn the designation "CPP." The recipients were recognized at the NPA Annual Membership Meeting on July 11, 2017, at The Mirage Las Vegas.
The following pawnbrokers have achieved the designee status of Certified Pawn Professional (CPP):
Michael Gamber – Mentor Financial Jewelry and Loan, Mentor, OH
Roger Hunnicutt – Tiger Pawn Shop, Pendleton, SC
Larry Nuckols – Brittex Financial, Inc, San Antonio, TX
Scott Paulsen – Peninsula Pawn, Seaford, DE
Willie Showell – Nathan's Lynnhaven Pawn Shop, Virginia Beach, VA
James Starnes – American Pawn Exchange, Taylors, SC
CPP designees have had at least three years of professional pawnbroking experience and have been certified in a series of CPP learning programs, such as Store Operations; Marketing, Advertising, and Public Relations; Human Resources; Product Knowledge; Federal Regulations; and Security, Risk, and Crisis Management. The program was created by the NPA in partnership with pawnbroker members who are experts in their field.
The CPP designation recognizes pawnbrokers who are committed to professional development and the attainment of the skills and knowledge necessary to perform their jobs at the highest level of quality and is also an avenue for employers to recognize and promote pawn professionals. The program builds on the NPA's commitment to provide resources and tools to strengthen the pawn industry.
For more information about the NPA, visit NationalPawnbrokers.org.
The NPA works to provide independent pawnbrokers nationwide with resources and tools to strengthen the pawn industry. NPA members are committed to operating their businesses in such a manner as to enhance and promote the positive and professional image of all pawnbrokers. Members believe in establishing positive and long-lasting relationships with local, state, and federal government officials. The NPA is the industry's only national association and is located in Keller, TX.