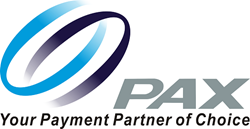 By working together to integrate the SecureTablePay solution into the PAX A920, we have created a winning combination...
JACKSONVILLE, Fla., and SEATTLE (PRWEB) March 12, 2019
PAX Technology Inc, a leading international supplier of secure electronic payment solutions, and SecureTablePay, provider of the field-proven, pay-at-the-table application, announce today that PAX's Android payment terminals will be available in the U.S. market with the SecureTablePay solution.
The PAX A920 is an innovative smart mobile terminal; it is an Android-powered device that is supported by the PAXSTORE open software distribution platform, which allows payment service providers to create and manage their own independent app marketplaces. SecureTablePay's pay-at-the-table software is now integrated to the PAX A920.
SecureTablePay's EMV-enabled pay-at-the-table solution gives customers the peace of mind of added security as the payment device is brought to them at the table. Customers can safely and easily use their chip cards, with either a PIN or signature, right from their seats. Ensuring security and faster, more convenient checkouts makes paying at the table with wireless terminals the ideal approach to satisfy hospitality customers.
"By adding convenience, new payment options and better security to the payment experience, today's modern restauranteurs will easily recognize value from utilizing SecureTablePay," said Patty Walters, SVP of Security and Services at PAX Technology. "By working together to integrate the SecureTablePay solution into the PAX A920, we have created a winning combination of function, ease of use and security; completely removing the POS software from PCI scope, an additional benefit critically important to every restaurant."
The A920 comes with a 5-inch high definition tablet color display and a fast, thermal printer that is neatly hidden below to maximize screen usage for customer-facing transactions. Coupled with SecureTablePay's multichannel-ready capabilities with Bluetooth, wire, and 4G LTE, the integration takes every step to ensure a more user-friendly, versatile, yet more secure table restaurant experience.
"PAX Technology is a true innovator in the global electronic payments space, and we're very excited to be partnering with them," said Akash Sahai, President of SecureTablePay. "PAX A920 is a great combination of form and function, and its sleek design marries perfectly with SecureTablePay's own contemporary graphic user interface. The combined technologies' operational and security capabilities ensure the utmost convenience for merchants, servers, and guests."
The PAX and SecureTablePay partnership brings to the merchant a wide range of advanced connectivity options, as well as inbuilt NFC contactless, electronic signature capture and massive amounts of memory to enable exceptionally fast processing of payments – creating the ideal pay-at-the-table solution for restaurants when it comes to security, efficiency, customer convenience, and resulting profitability.
About PAX Technology Inc.
PAX is one of the fastest-growing electronic payment solution providers in the world. PAX has been serving the global retail marketplace for over 18 years and has distribution in over 100 countries shipping over 36 million terminals worldwide. PAX offers a complete line of products and services supported by extensive R&D capabilities. In addition to a most competitive pricing model, quality assurance is the company's top priority which enables PAX to have a strong advantage in the marketplace.
About SecureTablePay
SecureTablePay is Canada's leading pay-at-the-table software provider with over 10,000 installations, and now fully certified and field proven in the U.S. market. SecureTablePay's solution works with leading point of sale systems and all the payment processing providers, empowering restaurant operations with the best pay-at-the-table experience.
SecureTablePay offers all the conveniences preferred by restaurant and hospitality merchants. SecureTablePay is fully EMV compliant and allows merchants to process pay-at-the-table payments with chip and pin, chip and sign, contact-less, and NFC tap technology.
SecureTablePay is a division of Posera Ltd, a leading provider of hospitality technology for more than 30 years. More information about Posera can be found on the Company's website at http://www.posera.com or under the company's profile on SEDAR at http://www.sedar.com.
Heather Hatch, VP Business Development – PAX Technology Inc.
1.904.900.3741 ext. 322
Heather.hatch(at)pax(dot)us
http://www.pax.us
Akash Sahai, President - SecureTablePay
1.416.508.2548
asahai(at)securetablepay(dot)com
http://www.securetablepay.com