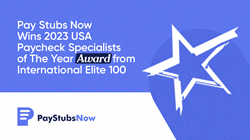 It is little surprise that Pay Stubs Now not only satisfied these requirements, but exceeded them with flying colors
LOS ANGELES (PRWEB) March 08, 2023
Today, Pay Stubs Now, a leading provider of digital paystubs and other payroll services, proudly announced that it has been named 2023's USA Paycheck Specialist of the Year by the International Elite 100 Awards organization.
The accolade is based entirely on merit, and it is awarded to only the most exceptional companies each year. Each title is meant to recognize those that have demonstrated an ability to provide exceptional services in their industry, and only companies that have been nominated by fellow competitors and clients can be considered for an award.
Of the company's announcement, V. Kushneryk for PaystubsNow commented, "we couldn't be more honored to receive the title of Paycheck Specialist of the Year from IE 100. The team at PaystubsNow has worked tirelessly to ensure that customers have a reliable and fast way to get the paystubs they need, and the entire company is thrilled that its efforts have been recognized by such an esteemed organization. Moving forward, PaystubsNow is looking forward to continuing its growth and helping more people receive the documentation they require, quickly and efficiently."
The team behind the International Elite 100 Awards has a combined 36 years of experience in granting international awards, including direct collaborations with Fortune 500 companies across a diverse range of industries.
Nominations themselves are not specific to any industry, as companies selected for consideration are shortlisted through a rigorous assessment process, which measures the following:

Number of client nominations and referrals
Press coverage
Previous industry awards
Vertical-specific market research
Five nominees are ultimately chosen for each award category. To ensure only the best of the best are selected as winners, the organization upholds a fair judging process that considers all aspects of a nominee's business. These primary considerations include:

Complexity: The level of difficulty in producing the product or service, the scale of which it is offered, and the speed of which it is fulfilled.
Strategy: The organization's ability to develop and implement a strategic plan for growth.
Innovation: The degree of innovation and creativity that goes into service or product development.
"It is little surprise that PaystubsNow not only satisfied these requirements, but exceeded them with flying colors," said V. Kushneryk. "The organization stands out for its unparalleled ability to offer a user-friendly and straightforward online payroll service, which is particularly impressive given the intricate nature of conventional payroll processing. This recognition further cements PaystubsNow's position as an industry leader."
PaystubsNow's award-winning services have been a staple resource for thousands of customers seeking simple documentation. It currently offers the following:

Paystubs Generator: This service can be used to generate paystubs for a variety of purposes. Users simply enter their information and choose the format in which they want to see their paystubs created, including PDF or physical copy.
Digital PDF Copy — $8.99 per copy
Invoice Generator: This tool allows users to generate invoices for their business. It offers a few of the same options as the paystub generator, including PDF download.
Digital PDF Copy — Free
W-2 Form: This service allows users to generate their W-2 forms, which are used by employers to report wages, taxes, and other information for their employees.
Digital PDF Copy — $15.49 per copy
1099 Form: Users can utilize this tool to generate 1099 forms, which are needed by independent contractors and other service providers to report their earnings to the IRS.
Digital PDF Copy — $15.49 per copy
Powered by modern security features and a user-friendly interface, PaystubsNow remains the most trusted digital documentation provider in the industry.
About PaystubsNow: PaystubsNow is a digital documentation resource with four user-friendly form generators. Since its launch, the company has helped over 300,000 satisfied customers and garnered 1,000 five-star reviews and counting.