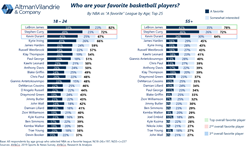 The NBA is a golden ticket for Pay TV providers to attract younger viewers, who subscribe at much lower rates than older viewers.
BOSTON (PRWEB) October 21, 2019
On the doorstep of a new regular season, new consumer data is showing the potential for the NBA and its broadcast and Pay TV partners to attract elusive younger viewers and subscribers through the star power of the world's best basketball players. Altman Vilandrie & Company's Sports and News Viewing Survey, conducted in August 2019, reveals NBA fans to be younger, more diverse, more focused on star players, and more interested in legalized sports betting than fans of the other major U.S. sports leagues.
"The NBA is a golden ticket for Pay TV providers to attract younger viewers, who subscribe at much lower rates than older viewers," said Altman Vilandrie & Company Principal Matt Del Percio, who oversaw the survey. "While the NFL is still the champ of overall TV ratings, the NBA is gaining viewers and mindshare – especially among younger viewers – thanks in large part to its strong promotion of its superstar players."
Some specific findings of Altman Vilandrie & Company's survey include:

While 77% of consumers age 55 and older subscribe to a traditional Pay TV service, only 65% of younger viewers (18-24 year olds) currently subscribe. However, among younger viewers who are regular (at least monthly) sports viewers, 73% subscribe to a traditional Pay TV service.
Among younger viewers who have at least one favorite sports league, 22% cited the NBA as their top favorite, ahead of the NFL (17%) and MLB (7%); in contrast, viewer interest in the NFL and MLB skew far older.
Across a long list of leagues, teams, and players, younger viewers rank NBA entities as 5 of the top 7: the NBA itself, Steph Curry, Golden State Warriors, LeBron James, and LA Lakers. In contrast, among those aged 55+, the only NBA entities in the Top 25 are Steph Curry (#20) and the NBA (#22). Overall, Steph Curry was the top ranked player across all sports, but Lebron James was the most popular player among basketball fans in the oldest and youngest demographics.
Compared to other sports, interest in the NBA is more player-driven, with 56% of those having the NBA as their favorite sport saying that interest was driven by their favorite player, vs. 32% for the NFL and 35% for MLB.
For those younger NBA fans (18-24), 61% agreed that their interest was driven by their favorite player, suggesting the potential importance of player endorsements for Pay TV subscribership.
Of the top three leagues (NFL, MLB, NBA), NBA fans are most likely to be Pay TV subscribers with 87% subscribed (traditional or vMVPD). Of NBA fans 18-24-years-old, 90% are subscribed.
The NBA has been the most publicly supportive of legalized sports betting, which tracks with of younger viewers: 56% of adults under the age of 24 identify themselves as frequent or occasional sports gamblers, compared to only 17% of respondents over 55.
For advertisers and others, the NBA's diverse audience is also notable, with 36% of avid NBA fans categorizing themselves as White/Caucasian vs. 71% of avid NFL fans.
The NBA has become a year-round attraction with free agency and the draft garnering significant media coverage and fan interest: a higher percentage of NBA fans say they watch the draft than that of NFL fans.
About the 2019 Sports and News Survey
Altman Vilandrie & Company fielded an online survey in August 2019 to more than 5,000 U.S. respondents, measuring consumer interest and willingness to pay for sports and news programming, and gleaning insights about sports fandom, viewership, and betting habits. The findings show the importance of sports to the Pay TV industry and reveal the underlying passions of sports fans as well as potential impact that legalized betting will have on sports viewership. The survey also found that the traditional sports leagues and top teams and athletes are most popular, but sports fans – especially younger fans – have distinct preferences for which sports entities they want to watch. As part of the survey, we also determined fandom for 20+ leagues, 300+ teams, and 400+ athletes.
For questions on the survey, please contact Matt Del Percio at mdp@altvil.com or 212-220-2383.
About Altman Vilandrie & Company
Altman Vilandrie & Company is a strategy consulting group that focuses on the telecom, media, technology and investor sectors. The company's consultants are experienced in strategy, marketing, finance, M&A, technology, regulatory, and operations disciplines. Based in Boston and with offices in New York City and San Francisco, Altman Vilandrie & Company enables clients to seize new opportunities, navigate mounting challenges, improve business performance, and increase investor value within complex and converging industries.
Ninety percent of the boutique firm's operator clients are large- to mid-cap companies including service providers, technology and software developers, and media companies. Altman Vilandrie & Company's financial clients include many of the largest and most prominent investors in the telecom, media, and technology markets.