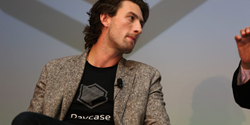 It would have been one of the biggest moves forward and a landmark Canadian partnership for the global financial and cryptocurrency industries.
TORONTO (PRWEB) September 24, 2019
Claim proceeding number is: CV-19-00627887-0000
These agreements were for the joint creation of a crypto brokerage desk and proprietary cryptocurrency data products, in order to provide institutional and retail clients with access to Bitcoin and other cryptocurrencies.
In connection with its litigation, Paycase Global has acquired financing from Bentham IMF, one of the most established and experienced commercial litigation funders in the world, to support the claim proceedings.
In connection with TMX's purported termination of the contracts, Paycase is seeking damages in the amount of $500 million in addition to other remedies, based on revenue forecasts discussed with TMX prior to entering into the contracts and damages incurred.
With these two ventures being first to market, combined with Paycase's deep knowledge and experience with current and forthcoming regulations, this partnership could have cemented the Paycase/TMX platform as a global leader in the space.
Since the announcement of the Paycase/TMX partnership, similar models have been successfully implemented by other major financial institutions.