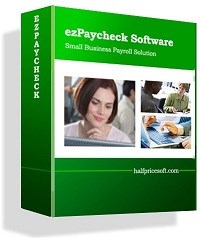 With remote access, customers can show our technicians exactly what the problem is. This will help us to solve the issue quickly.
Dallas, TX (PRWEB) July 25, 2013
Customer support for clientele is a high priority at Halfpricesoft.com. The new remote access provided on EzPaycheck payroll software cuts down on frustration to the buyers knowing they have peace of mind if they need assistance. Even better, there is no additional cost to customers for remote access and it's quick and easy for the technicians to see the issue and resolve it effortlessly.
Payroll tax processing is important for any business. Previously, Halfpricesoft.com's support team handled all customer service issues via phone, live chat online or e-mail. With remote access and permission from the customer, technicians can see a customer's computer remotely over the internet, enabling them to quickly implement the correct solution.
"Many payroll software customers do not have accounting and IT background. And they don't know how to describe a problem," said Dr. Ge, founder of Halfpricesoft.com. "With remote access, customers can show our technicians exactly what the problem is. It helps us to solve the issue quickly."
Since its release, ezPaycheck payroll software has been designed for ease of use by managers and business owners. Customers simply go online to http://www.halfpricesoft.com/payroll_software_download.asp and download the payroll software. Priced at just $89 per installation, ezPaycheck 2013 is an affordable software solution for running payroll and printing paychecks for any businesses.
Employers enter employee information and tax setup data once and simply update hours and any changes each payroll period. ezPaycheck automatically calculates earnings, taxes and deductions for each employee and prints their checks using the employer's choice of check forms. Data entry and check printing interfaces are easy to use and designed for business owners who don't have an accounting background.
The main features of this paycheck software include:

Supports daily, weekly, biweekly, semimonthly and monthly payroll periods. Features report functions, print functions, and pay stub functions.
Easily calculates differential pay.
Prints miscellaneous checks as well as payroll calculation checks.
Prints payroll checks on blank computer checks or preprinted checks.
Automatically calculates Federal Withholding Tax, Social Security, Medicare Tax and Employer Unemployment Taxes.
Includes built-in tax tables for all 50 states and the District of Columbia.
Creates and maintains payrolls for multiple companies, and does it simultaneously.
Prints Tax Forms 940, 941, W-2 and W-3.
Supports multiple accounts at no additional charge.
Supports network access.
Small Business Owners are welcome to try ezPaycheck 2011 payroll tax solution Without Cost or Obligation. ezPaycheck 2013 can be downloaded at $0 cost and tried for up to 30 days to ensure the software meets the customer's needs before purchasing. The download includes all features of ezPaycheck 2013, except check printing. For full, unlimited use customers must purchase a license key.
To make sampling ezPaycheck payroll software even easier, the free download includes a sample database. Customers do not have to waste time entering employee data before sampling the software's many features.
ezPaycheck 2013 software download and license keys are available online at http://www.halfpricesoft.com/index.asp.
About Halfpricesoft.com
Founded in 2003, Halfpricesoft.com has established itself as a leader in meeting and exceeding the software needs of small businesses in US. The software's graphical interface guides customers step-by-step through setting up employee information, setting up tax options, calculating payroll - including calculation of federal, state and local taxes; deductions for Medicare, insurance and 401(k) plans; and printing paychecks & tax forms.